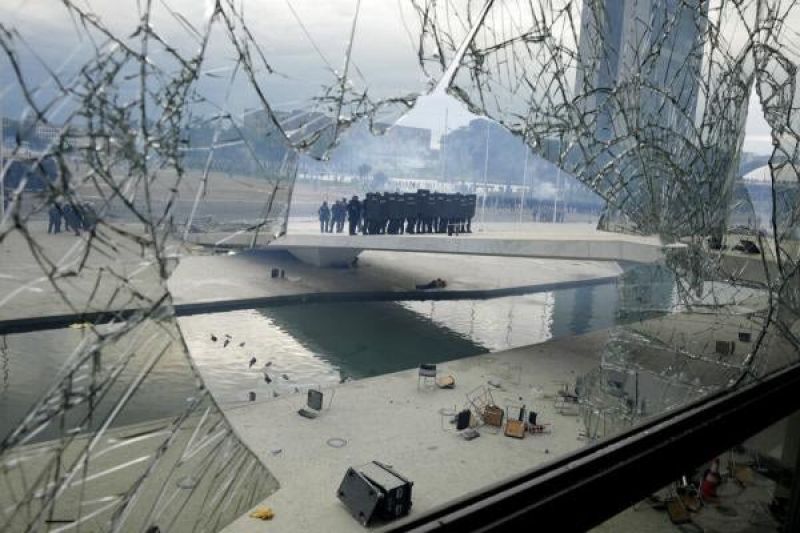 Police stand on the other side of a window at Planalto Palace that was shattered by protesters, supporters of Brazil's former President Jair Bolsonaro

If you accept democracy, you accept that your side – your party, your candidate – may lose an election.

This obvious point is apparently not so obvious to those who turned to violence and vandalism in Brasília yesterday.
In an effort to reverse the results of October's presidential election that put Luiz Inácio Lula da Silva in power at the start of this year, supporters of former president Jair Bolsonaro stormed Brazil's Congress, Supreme Court and presidential offices.
There were scenes of chaos both outside and inside the iconic buildings of the country's capital. Hundreds were arrested.
Observers around the world quickly noted the similarities to the insurrection by Trump supporters in the US on January 6, 2021, and not just because Trump and Bolsonaro have been allies.
The playbook seemed eerily familiar. Like Trump, Bolsonaro had for years prepared the ground for undermining democratic principles and then spread baseless claims of electoral fraud. As in the US, events in Brazil were an abhorrent attack on democratic institutions and on the right of citizens to freely choose their leaders.
As with the US insurrection two years ago, too, investigations into yesterday's events in Brasília will no doubt continue for a long time. Police and the attorney general's office should look into not only those who committed acts of violence, but those who incited and financed them. And why did local authorities fail to take adequate measures to protect key federal buildings?
People deserve to know every detail about such attacks on their democracy, and those responsible should be held accountable.
There is one final – and most important – similarity between the episodes of Brazilian and US anti-democratic violence. Both efforts failed.
Yes, the dangers are real. Years of a demagogue trying to undermine a democratic system with baseless conspiracy theories can incite some fanatics to violence.
But there is cause for defenders of freedom and human rights to take heart. In both the US in 2021 and Brazil in 2023, the institutions of democracy remained standing.
Long may they continue to do so. – Human Rights Watch