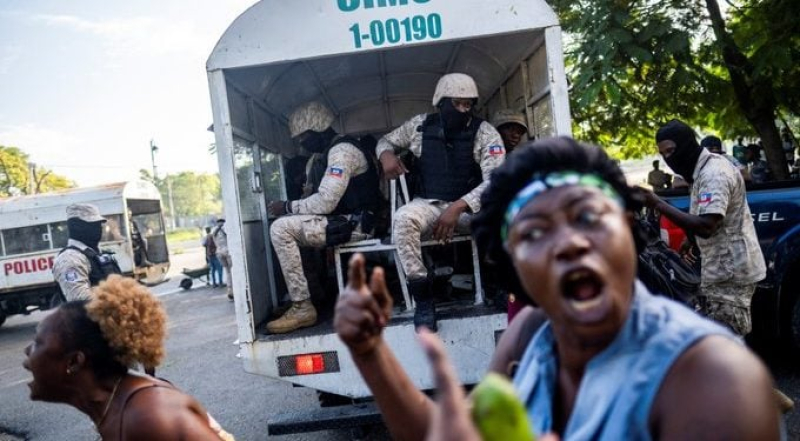 More than 530 people have been killed this year in gang violence in Haiti, the United Nations said Tuesday, with many killed by snipers shooting victims at random.
The UN human rights office said it was concerned that extreme violence was spiralling out of control in Haiti.
"Clashes between gangs are becoming more violent and more frequent, as they try to expand their territorial control throughout the capital and other regions by targeting people living in areas controlled by rivals," spokeswoman Marta Hurtado said.
This year, up to March 15, "531 people were killed, 300 injured and 277 kidnapped in gang-related incidents that took place mainly in the capital, Port-au-Prince," she told reporters in Geneva.
In the first two weeks of March alone, gang clashes left at least 208 dead, 164 injured and 101 kidnapped, Hurtado said.
"Most of the victims were killed or injured by snipers who were reportedly randomly shooting at people in their homes or on the streets," she added.
Students and teachers have been hit by stray bullets, and kidnappings of parents and pupils in the vicinity of schools has surged, forcing many to close.
Without the protective school environment, "many children have been forcibly recruited by armed gangs", Hurtado said.
- Thousands displaced -
Haiti, the poorest nation in the Americas, has been gripped by a worsening political and economic crisis since the July 2021 assassination of president Jovenel Moise, and gangs now control more than half the country's territory.
The chronic instability and violence have sent food prices surging, and half the population does not have enough to eat, Hurtado said.
At least 160,000 people have been displaced and are living in precarious circumstances, with a quarter living in makeshift settlements with limited access to basic sanitation, she added.
"Sexual violence is also used by gangs against women and girls to terrorise, subjugate and punish the population," Hurtado said, with gangs using sexual violence against abducted girls to pressure families into paying a ransom.
UN human rights chief Volker Turk has urged the Haitian authorities to address the security situation immediately, by bolstering the police and reforming the judicial system.
"To break the cycle of violence, corruption and impunity, all those responsible, including those providing support and finance to the gangs, must be prosecuted and tried according to the rule of law," Hurtado said.
"We also call on the international community to urgently consider the deployment of a time-bound, specialised support force," she added.