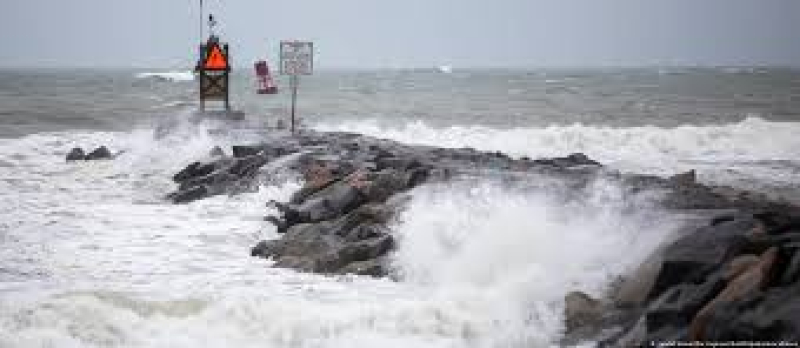 US forecasters warned of potential flooding across North Carolina and Virginia Saturday after Tropical Storm Ophelia made landfall.

Ophelia came ashore near the town of Emerald Isle with near-hurricane-strength winds of 70 miles per hour (113 kilometers per hour) early in the morning.

The National Weather Service said nearly 8 million people across the Mid-Atlantic — from New York to South Carolina — were under storm surge and flood warnings as of midday Saturday. Some spots could see up to 10 inches (25 centimeters) of rain, it said.

The storm weakened as it swept through north. It is expected to travel northeast Sunday along the mid-Atlantic coast to New Jersey, the US National Hurricane Center said.

Ophelia has now been downgraded to tropical depression — a weaker form of tropical storm — and all storm warnings have been discontinued.

"There have been tropical storm-force winds observed, but those are starting to gradually subside as the system moves further inland," Philippe Papin, a hurricane specialist with the center, said.

"Additional weakening is expected, and Ophelia is likely to become a post-tropical cyclone tomorrow," the hurricane centersaid in a statement on Saturday night.
"However, there is a significant flooding rainfall threat for a large portion of eastern North Carolina into southern Virginia over the next 12 to 24 hours."
What is the latest on the impact of Storm Ophelia?
One of the hardest hit communities by the storm was Washington, North Carolina.
Video footage on social media showed flood waters reaching homes and partly submerging vehicles in areas of the town that sit on the banks of the Pamlico River.
"Some areas are even cut off, seeing water rescue crews moving throughout town just in case the call comes later," storm chaser Bryce Shelton said on X, formerly known as Twitter, describing the conditions in the town of 10,000 people.
Brian Haines, a spokesperson for the North Carolina Division of Emergency Management, said there were also reports of downed trees, but no major road closures.
In Virginia, the state's department of emergency management said in an X post that its crews were ready to deploy swift water rescues and debris removal if required.
By midday Saturday, more than 65,000 homes and businesses in North Carolina, Virginia, Pennsylvania and New Jersey were without power, according to Poweroutage.com.
Five people, including three children 10 or younger, needed the Coast Guard's help on the water when conditions worsened Friday.

They were aboard a 38-foot (12-meter) catamaran anchored in Lookout Bight in Cape Lookout, North Carolina, stuck in choppy water with strong winds.

In Washington, the Nationals baseball team postponed their Saturday game until Sunday.

The North Carolina Ferry System suspended service on all routes until conditions improved.

Peak hurricane season
It is not uncommon for one or two tropical storms, or even hurricanes, to develop right off the East Coast each year, National Hurricane Center Director Michael Brennan said.

"We're right at the peak of hurricane season, we can basically have storms form anywhere across much of the Atlantic basin," Brennan said in an interview Friday.

Scientists say climate change could result in hurricanes expanding their reach into mid-latitude regions more often, making storms like this month's Hurricane Lee more common.

One study simulated tropical cyclone tracks from pre-industrial times, modern times and a future with higher emissions caused by the continued burning of fossil fuels.

It found that hurricanes would track closer to the coasts including around Boston, New York and Virginia and be more likely to form along the southeast coast, reports DW.