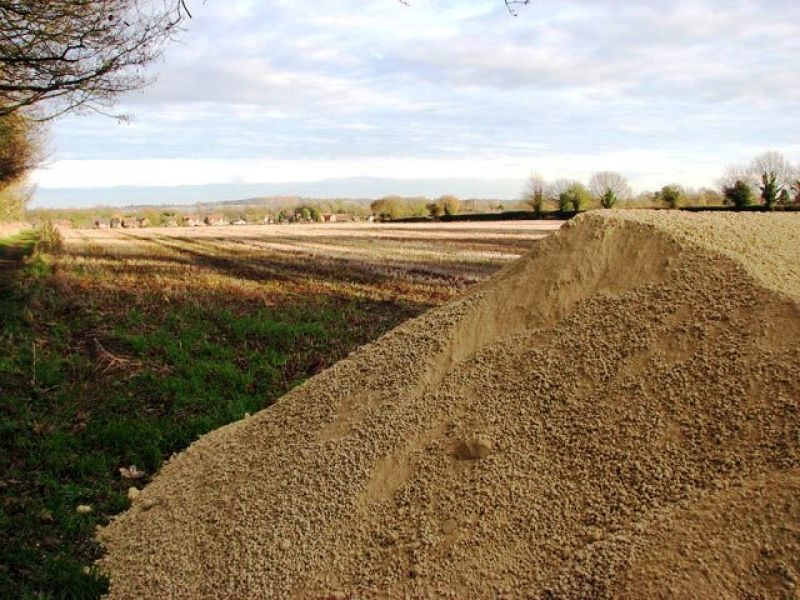 Fertiliser waiting to be spread. Creative Commons.

Dhaka, Feb 14 – Agriculture Minister Dr M Abdur Razzaque Monday said the government will need Taka 28,000 crore this year as fertilizer subsidy which has crossed nearly three three times the government's estimated budget of Taka 9,500 crore earmarked for the current year, official news agency BSS reported.

"Abnormal global price hike of urea and non-urea fertilizers coupled with exorbitant freight charge and fuel price inflation have made the fertilizer import very much costlier compared to last year," he said.
The agriculture minister said this while exchanging views with the newsmen on fertilizer stock, price and subsidy at the secretariat here this morning.
Under world-wide corona situation, Dr Razzaque said fertilizer price has skyrocketed globally at least three times higher and higher fuel price enforced freight charge by nearly two times compared to last year making the situation worse this year.
"We are observing the situation at the international market, but it would be difficult for the government to provide such huge amount of subsidy continuously unless the international price would further drop," he told the journalists.
In 2020-21 fiscal year, he said fertilizer subsidy was Taka 7,717 crore while the government has earmarked only Taka 9,500 crore in 2021-22 fiscal year for subsidy, adding "So, now nearly Taka 19,000 crore more is needed for providing subsidy to the importers."
In the current fiscal year, per kg urea import cost shoot up to Taka 96, jumped from only Taka 32 in last year while Triple Super Phosphate (TSP) at Taka 70, up from Taka 33, Muriate of Potash (MoP) reaches at Taka 54 from Taka 23 and Di-ammonium phosphate (DAP) at Taka 93, which was Taka 37 in last year.
Under the circumstances, the minister said the government has to pay Taka 82 as subsidy against import of a kilogram of urea while it is Taka 50 for TSP, Taka 41 for MoP and Taka 79 for DAP.
But the prices of these fertilizer at the growers' level are fixed at Taka 16 per kg for urea, Taka 22 for TSP, while MoP is being sold at Taka 15 and DAP at Taka 16, the minister noted.
Talking about huge amount of subsidy, the agriculture minister said "There is no instance of providing such huge amount of subsidy to the farmers for fertilizer as the amount of Taka 28,000 crore subsidy could construct another multi-purpose Padma bridge."
Prime Minister Sheikh Hasina is providing such huge amount of subsidy for agriculture while different international organizations including the World Bank are mounting pressure to reduce public subsidy for the agriculture sector, he said.
"The fertilizer price has shot up at least three times higher, but the farmers' friendly government so far didn't increase the fertilizer price in the internal market," said Dr Razzaque.
After coming to power in 2009, the government led by the Awami League has provided a total of Taka 88,828 crore as subsidy for agricultural inputs till 2021-22 fiscal year while the BNP provides only Taka 1,095 crore for fertilizer sector in 2005-06 fiscal year.
At present, the government is providing nearly 27 times more subsidy compared to the subsidy provided by the BNP in 2005-06 fiscal year, the minister said.
Criticizing the fertilizer crisis during the BNP-Jamaat regime, the minister said there was extreme crisis of agricultural inputs including fertilizer during the regime of BNP as eighteen farmers were shot dead by the BNP government due to fertilizer crisis in 1995.
But the country never witnessed any kind of shortage of agriculture inputs during the last thirteen years, he added. Fertilizer and other agricultural inputs supply was uninterrupted during the regime of the present government, he said.
The country's net chemical fertilizer demand stands at nearly 57.50 lakh tonnes--- 26 lakh tonnes urea, 7.50 lakh tonnes TSP and MoP each and 16.50 lakh tonnes DAP, The report said.