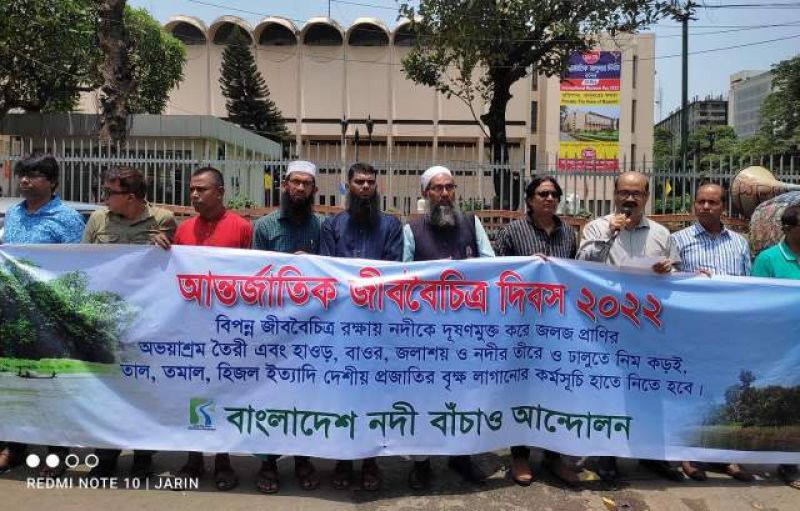 Save the river movement Bangladesh organised a human chain near the National Museum on Saturday on the occasion of the int'l Biodiversity Day.

The International Day for Biological Diversity will be observed in Bangladesh as elsewhere over the globe today, May 22.

The International Day for Biological Diversity, celebrated each year on May 22, aims to increase understanding and awareness of biodiversity issues. Although it was originally celebrated in late December, the UN General Assembly later decided to move the date to 22 May, which commemorates the adoption of the Convention on Biological Diversity (CBD) in 1992.
Biodiversity is the living fabric of our planet. It underpins human well-being in the present and in the future, and its rapid decline threatens nature and people alike. According to the latest Global Assessment by the Intergovernmental Science-Policy Platform on Biodiversity and Ecosystem Services (IPBES), human activities are driving biodiversity loss at an unprecedented rate. However, the assessment also indicated that solutions existed and that it was not too late to act.
Biodiversity remains the answer to several sustainable development challenges. From nature-based solutions to climate, health issues, food and water security, and sustainable livelihoods, biodiversity is the foundation upon which we can build back better. The International Day of Biological Diversity 2022 is being celebrated under the slogan: "Building a shared future for all life". The slogan was chosen to continue building momentum and support for the post-2020 global biodiversity framework to be adopted at the upcoming UN Biodiversity Conference #COP15. As the world continues to grapple with the pandemic, Biodiversity Day 2022 will be commemorated mainly online.
Scientists estimate that there are at least 8 million species of plants and animals living on earth today, including humans. The ecosystems in which these species live are incredibly complex and every piece of an ecosystem depends on the others like a jigsaw puzzle. Humans are immersed in ecosystems and depend on these interconnected networks of plants, animals, and people. However, human activities are significantly impacting ecosystems, for instance through man-made climate change, pollution, and habitat loss. By removing just one species as a result of climate change, pollution, habitat loss, or some other natural or man-made factors, a domino effect can occur that has a big impact on the entire ecosystem.
A healthy biodiversity and functioning ecosystems are essential for human societies in numerous ways. About half of the world's GDP – about 44 trillion USD – is dependent on natural resources, while nature provides at least $125 trillion worth of services annually. Nature also protects our health in many ways. As the current pandemic has shown, the increasing negative impact of human activities on the environment severely threatens human and ecosystem health. Furthermore, as the UN Special Rapporteur on human rights and the environment pointed out in one of his latest report, ecosystem
degradation and the decline of biodiversity are threatening the rights to life, health, food, a healthy environment, water, an adequate standard of living and culture.
Human negative impact on biodiversity has reached an unprecedented scale. About 75% of terrestrial environment and 66% of the marine environment have been significantly altered by human actions. Approximately 1 million animal and plant species are now threatened with extinction. Overall, current negative trends in biodiversity and ecosystems are undermining progress towards the Sustainable Development Goals (SDGs). The main global drivers of biodiversity loss are climate change, invasive species, over-exploitation of natural resources, pollution and urbanization. Without rapid and ambitious action to reverse these trends and safeguard nature, we are at risk of failing to achieve the 2030 Agenda. – GW News Desk