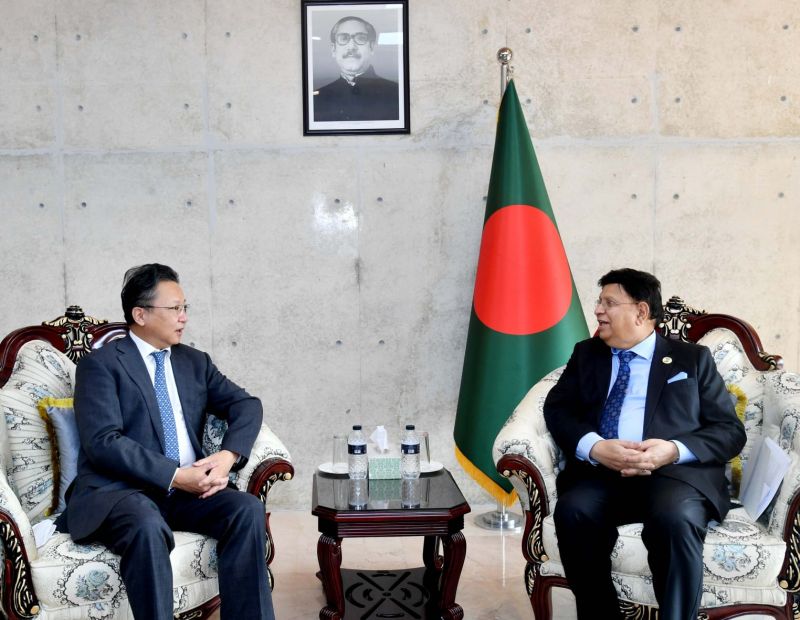 Chinese Ambassador to Bangladesh Li Jiming had a farewell meeting with Foreign Minister AK Abdul Momen at the Ministry of Foreign Affairs in the capital Wednesday.

During the meeting, the foreign minister expressed his deepest condolences and heartfelt sympathies over the death of the former president of China Jiang Zemin.
Momen appreciated Jiming's efforts and contributions to strengthening Bangladesh-China ties.
Also, he recalled the visits of Father of the Nation Bangabandhu Sheikh Mujibur Rahman to China in 1952 and 1957 and referred to Bangabandhu's impression of the "New China," in his book "Amar Dekha Naya Chin" on his 1952 visit.
The foreign minister lauded the support of the Chinese government and the Chinese ambassador in addressing the Covid-19 pandemic in Bangladesh, particularly for the gift of over 5 million doses and for opening the commercial supply line of 77 million doses of Covid-19 vaccines to Bangladesh at the most critical time of the pandemic, and good progress of the China-assisted mega projects in Bangladesh.
Both sides exchanged views on regional and multilateral issues of mutual interest, including cooperation in different multilateral fora on SDGs, climate change, and South-South cooperation.
Reiterating Bangladesh's position on the "One China Policy," the foreign minister said Bangladesh shares the vision for a free, open, peaceful, secure, and inclusive Indo-Pacific, based on international law and with shared prosperity for all.
He hoped that China would continue to extend support towards the repatriation of the Rohingyas from Bangladesh to Myanmar at an early date for peace and security in the region, reports UNB.