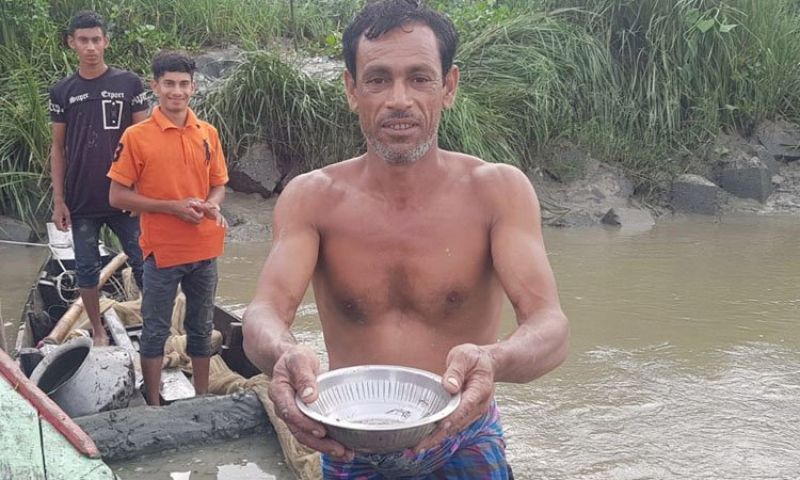 Some popular species of fishes specially Ruhi, Katla, Mrigel and Kaliboush released 'sample eggs' at several places on Sunday night in the river Halda, the lone natural fish breeding sanctuary in the world.

These fishes usually release eggs between March and June, said experts, adding though mother fishes took long time to release eggs this year, its quantity is not sufficient, the sources added.
Halda expert Dr Monjuril Kibria told BSS that fishermen found 50 to 200 grams of eggs in different places in the coast of Halda early today.
Hathazari upazila administration and local egg collectors also confirmed the release of sample eggs, reports BSS.
Egg collectors Kamal Uddin Sawdagor said that they collected sample eggs from Monday morning. "Due to the increase in tidal water, the mother fish did not get a favorable environment to lay eggs," he opined.
The indigenous fish species including Ruhi, Mrigel, Katol and Kalibaush started releasing eggs after heavy rain with thunderbolts, he added.
He hoped that if there is heavy rain with thunderstorms before or alter full moon day, mother fish can start releasing eggs in full swing in the river during high tide or low tide.
Meherun Nesa, Hathazari Upazila Fisheries Extension Officer, said some of the waiting egg collectors had found sample eggs at several places including Garhduara, Nayahat areas and Mashuaghona.
She hoped that if the mother fish does not release eggs on the full moon days, then the mother fish will release eggs during the next new moon.
Hathazari Upazila Nirbahi Officer Shahidul Alam said they have taken steps to ensure the safe breeding of mother fish. 'Steps have also been taken as none could catch the mother fish during the breeding period,' he added.