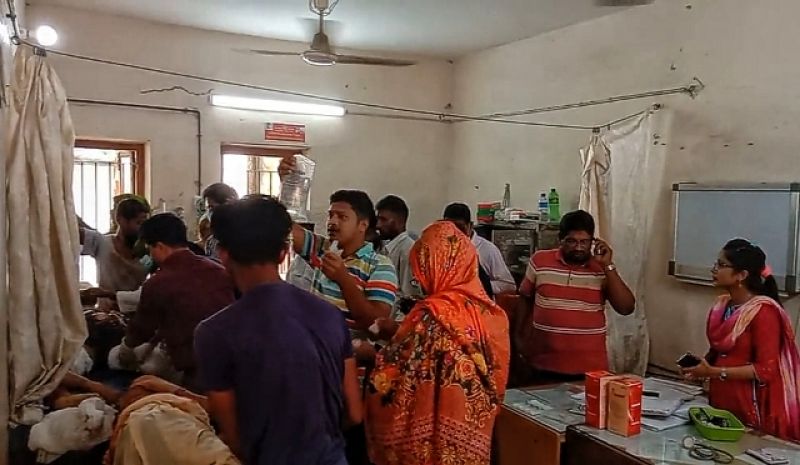 Anxious moments at the Barishad Sher-e-Bangla Medical College Hospital.

Patuakhali: A mother Mukta Begum (42) also died after the death of his son Jihad (12) when an illegal vehicle trolley ran over a auto-rickshaw in Kalapara of Patuakhali. He died on the way from Barisal to Dhaka for better treatment at around 11 pm on Saturday.
Apart from this, child Junayed (4) and Jahanara Begum (65) were referred from Barisal Sher-e-Bangla Medical College Hospital to Dhaka for better treatment. And Mim (14) Barisal is undergoing treatment. They all belong to the same family. Mourning is now going on in Morichbunia village of Dhankhali union of Kalapara Upazila.
Earlier on Saturday around 12 noon, a tragic road accident took place on the Kuakata alternate road in the Musulliabad area of Baliatli UP. Jihad, the infant son of Mithu Khan of Morichbunia village, was killed on the spot. His wife Mukta's legs were amputated. In addition, the elder daughter Mim Akhtar, younger son Junaid (06) and mother Jahanara along with a cable operator were seriously injured. Dulal (26) and driver Mahmud Nuru (35) along with 2 other unidentified passengers were also injured. Despite carrying passengers beyond capacity and repeated accidents, the tragic road accident happened as the trolley was operated by an incompetent driver.
Md. Jasim, OC of Kalapara police station, said that a case has been filed against the owner and driver of the trolley in the incident. Police efforts to arrest them are continuing. - Gofran Biswas Palash