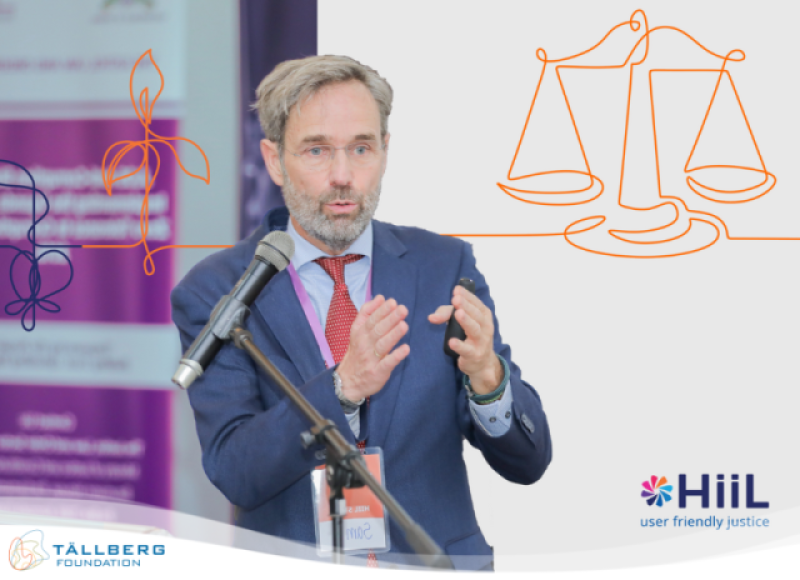 Sam Muller and HiiL

"All are equal before the law and are entitled without any discrimination to equal protection of the law."

Article 7, Universal Declaration of Human Rights
Practically every country in the world has long since signed the Universal Declaration; indeed, who doesn't purport to believe in universal access to justice, even if sometimes it is brutally mis-defined? Why then are so many people in so many places mistreated by their judicial systems?
"Justice systems are not held accountable for outcomes," answers Sam Muller, who founded and leads The Hague Institute for Innovation of Law (HiiL). In effect, he continued during a recent New Thinking for a New World podcast, they worry about the number of judges, the length of backlogs, the size of law firms—instead of "the amount of prevention and resolution they are able to organize."
Muller and HiiL are committed to flipping the approach. They focus on "people-centered justice" and base their work on collecting data with the imperative of understanding what issues actually affect citizens and, then, what does and does not work when it comes to justice. According to Muller, 60-70% of the justice problems people experience are about land, employment, family, small crimes, neighbor disputes, money or access to public services. Knowing the problems, working towards outcomes and best practices to solve those problems, "can be done in every culture."
Focus on the outcomes, instead of the inputs; that's the kind of change we want to see," he says.
And that's where data come in. HiiL began collecting data with the imperative of understanding "the justice needs of people… their journeys to justice." HiiL focuses on innovations; the "evolution of systems, of practices, of opportunities, of ways of doing things." Data create benchmarks for progress.