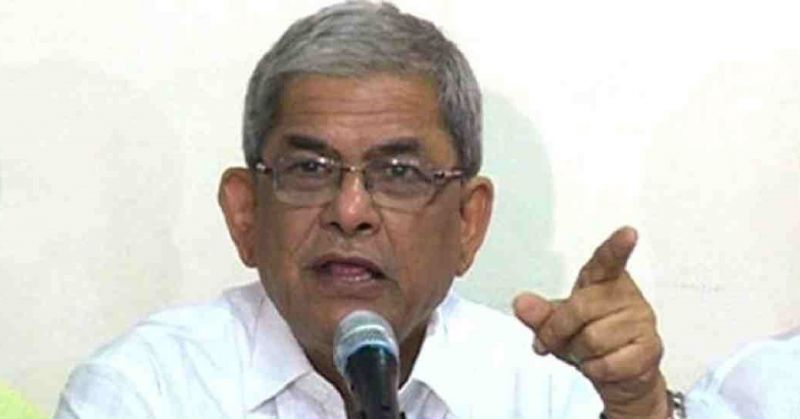 Mirza Fakhrul

Dhaka, Mar 8 - BNP secretary general Mirza Fakhrul Islam Alamgir on Tuesday voiced deep concern that the country is now experiencing a silent 'famine' due to the soaring prices of essentials.

Speaking at a rally in front of the Jatiya Press Club, he also alleged that the government has lost full control over the market due to the influence of the ruling party-backed business syndicates.
"A genuine silent famine is now prevailing across the country. People are standing in queues behind the TBC trucks wearing masks. They're collecting one litre of oil or some pulse or rice amid hassles and tussles," the BNP leader said.
Jatiyatabadi Jubo Dal arranged the rally in front of the Jatiya Press Club protesting the unusual price hike of daily essentials.
Fakhrul said the price of onion went up to Tk 10 per kg the day the commerce minister issued a warning of taking action if the prices of essential items were not reduced. "What does it mean? It means that this government has no control over the market."
The BNP leader alleged that the ruling party leaders are leading all the market and business syndicates and they are also indulging in extortion and bribery.
"Whenever Awami League came to power they tried to make their own fortune using people as their pawns. The situation was the same from 1972 to 1975 and there was a famine in the country and millions of people died without food only because of their incompetence and corruption," he observed.
Fakhrul slammed the government for hiking the fuel oil and gas tariffs as she thought these moves also contributed to push up the prices of essentials.
He also trashed Prime Minister Sheikh Hasina's comment that the prices of daily essentials have gone up everywhere due to the Russia-Ukraine war. "I would like to ask her (PM) when did the Russia-Ukraine war start? How long have people been shouting about reducing the prices of oil, rice, pulses?"
The BNP leader said the international organisations are saying that the number of poor people in Bangladesh has increased by two percent this year.
Stating that if the trum fare goes up by four paisa in Kolkata, then Kolkata city will be closed, Fakhrul said, "They (AL) have been immensely torturing us for 14 years, but we can't resist it in that way. But we have to stop it."
He also said there is no alternative to ousting the current government to stop all injustice and oppression, ensure foo for the poor people and get rid of the famine.
"The country's existence will be at stake if the current government stays in power for some more time. They've deliberately destroyed the judiciary, education system, politicised, administered the bureaucracy and created a breeding ground for corruption in the universities," he observed.
Fakhrul urged the country's people and political parties to get united to establish a government of people defeating the current 'despotic' regime. - UNB