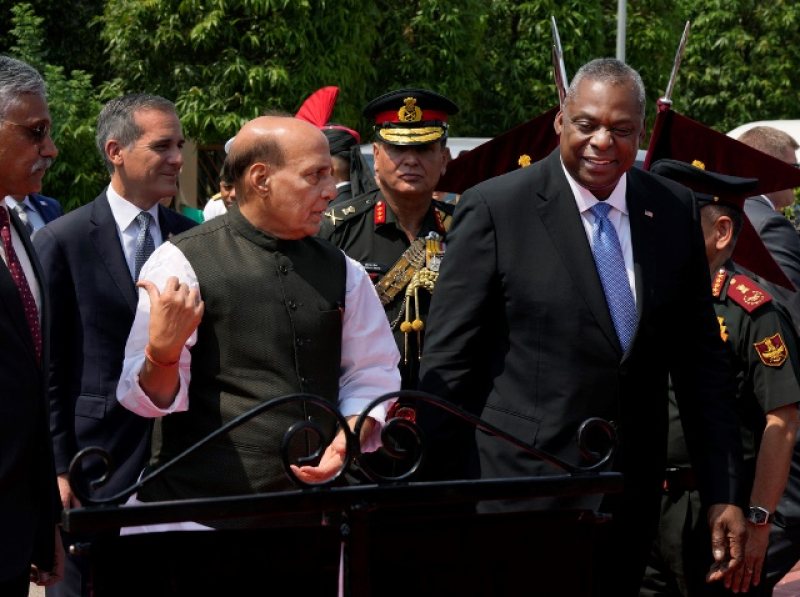 Indian Defense Minister Rajnath Singh, second from left, welcomes U.S. Secretary of Defense, Lloyd Austin before their meeting, in New Delhi, India, Monday, June 5, 2023. (AP Photo-Manish Swarup)

NEW DELHI (AP/UNB) — U.S. Defense Secretary Lloyd Austin on Monday discussed upgrading partnership with India, a major arms buyer, as both countries grapple with China's economic rise and increased belligerence, officials said.

Austin met with India's Defense Minister Rajnath Singh, with both sides emphasizing technology partnerships including defense, clean energy and space. India is working to promote its domestic defense industry by acquiring technology and reducing reliance on imports, particularly from Russia, its largest supplier of military hardware despite the ongoing war in Ukraine.
"I'm returning to India to meet with key leaders for discussions about strengthening our Major Defense Partnership. Together, we're advancing a shared vision for a free and open Indo-Pacific," Austin tweeted after his arrival in New Delhi on Sunday.
Austin, who is on his second visit to India, was expected to lay the groundwork for Prime Minister Narendra Modi's visit to Washington on June 22, which has fuelled speculation about a possible announcement of defense contracts.
India is looking to buy 18 armed high-altitude long-endurance unmanned aerial vehicles from General Atomics Aeronautical Systems Inc. for an estimated $1.5 billion to $2 billion, said Rahul Bedi, a defense analyst. The UAVs would likely be deployed along its restive borders with China and Pakistan and in the strategic Indian Ocean region, Bedi said.
Indian media reports said a joint production and manufacture of combat aircraft engines, infantry combat vehicles, howitzers and their precision ordnance were discussed last month in Washington at a meeting of the U.S.-India Defense Policy Group.
Austin arrived in New Delhi from Singapore, where he attended the Shangri-La Dialogue, an annual forum bringing together top defense officials, diplomats and leaders. Austin lobbied for support for Washington's vision of a "free, open, and secure Indo-Pacific within a world of rules and rights" as the best course to counter increasing Chinese assertiveness in the region.
China's Defense Minister Gen. Li Shangfu said at the conference that the U.S. has been "deceiving and exploiting" Asia-Pacific nations to advance its own self-interests to preserve "its dominant position."
Li suggested that Washington has been holding on to alliances that are "remnants of the Cold War" and establishing new pacts, like the AUKUS agreement with Britain and Australia and the Quad grouping with Australia, India and Japan, "to divide the world into ideologically-driven camps and provoke confrontation."
India is trying a balancing act in its ties with Washington and Moscow, and has been reducing its dependence on Russian arms by also buying from the U.S., France, Germany and other countries.
The U.S. defense trade with India has risen from near zero in 2008 to over $20 billion in 2020. Major Indian purchases from the United States included long-range maritime patrol aircraft, C-130 transport aircraft, missiles and drones.
Experts say up to 60% of Indian defense equipment comes from Russia, and New Delhi finds itself in a bind at a time when it is facing a 3-year-old border standoff with China in eastern Ladakh, where tens of thousands of soldiers are stationed within shooting distance. Twenty Indian soldiers and four Chinese troops died in a clash in 2020.