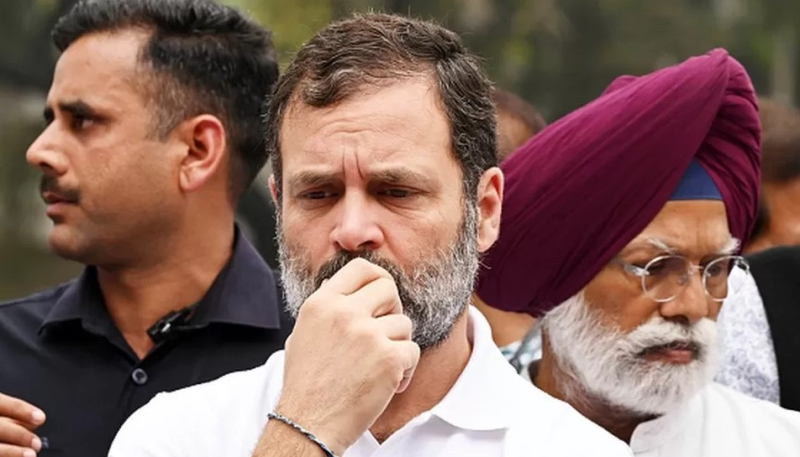 India's parliament has disqualified senior opposition leader Rahul Gandhi, a day after he was sentenced to two years in prison in a defamation case.

A parliament notice said that Mr Gandhi "stands disqualified from the membership of Lok Sabha", alluding to the lower house of parliament.
He was convicted by the court for 2019 comments about PM Narendra Modi's surname at a election rally.
Mr Gandhi was a Congress party MP from Wayanad in the state of Kerala, reports BBC.
He remains on bail for 30 days and has said he will appeal the verdict given by a court in Gujarat state.
Mr Gandhi's party had termed the verdict "erroneous and unsustainable" and pledged to fight the disqualification "both legally and politically".
On Friday, the Congress led opposition leaders in a protest march in the capital Delhi.
Visuals showed heavy security in the Vijay Chowk area outside the parliament as the opposition leaders stepped out carrying a large banner that read "democracy in danger".
TV channels reported that a few lawmakers were detained as security personnel stopped them from leaving the area.
The protesting MPs had planned to march to Rashtrapati Bhavan, the official residence of President Droupadi Murmu.
Congress president Mallikarjun Kharge alleged that the action against Mr Gandhi was a consequence of his demand for investigation by a joint parliamentary committee to probe allegations against the Adani Group.
The conglomerate was accused of decades of "brazen" stock manipulation and accounting fraud by US-based short-seller Hindenburg Research earlier this year. The Adani Group has denied allegations of financial fraud.
"They don't want to keep those who are speaking the truth," Mr Kharge said. "But we will continue to speak the truth."
The Congress says it plans more protests against the government in the coming days.
A 2013 Supreme Court order says that a lawmaker convicted in a crime and sentenced to two or more years in jail stand disqualified from the parliament with immediate effect.
Mr Gandhi will not be allowed to contest elections until his sentence is suspended or he is acquitted in the case.
National elections are due in India next year.
Jairam Ramesh, a Congress party leader, called the Gujarat court verdict a "very serious political issue" that could affect "the future of our democracy".
"This is a great example of Modi government's politics of vengeance, politics of threats, politics of intimidation and politics of harassment," he said after a party meeting on Thursday.
Ministers of the ruling Bharatiya Janata Party (BJP), however, criticised Mr Gandhi and his party for questioning the verdict.
Federal labour minister Bhupender Yadav said Mr Gandhi had insulted members of the caste grouping known as Other Backward Classes (OBC) under which the name "Modi" falls.
"Insulting any surname is not freedom of speech," he said.
But India's former law minister Kapil Sibal, who quit the Congress party last year, called the court's decision "bizarre".
He also said Mr Gandhi's comments were directed at "an individual" and not a community.
In his reaction to the verdict, Mr Gandhi tweeted a quote by Mahatma Gandhi, "My religion is based on truth and non-violence. Truth is my God, non-violence the means to get it."