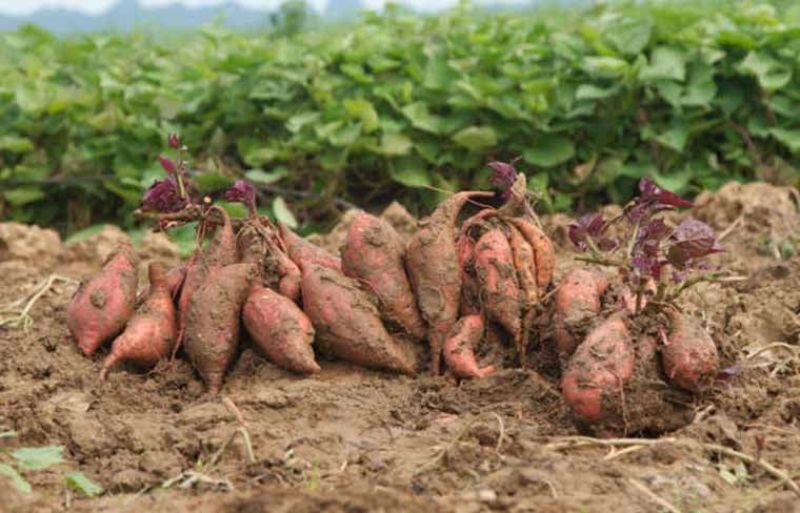 The sweet potato cultivation is regaining popularity in Mnaikganj district.

The sweet potato cultivation is regaining popularity in Mnaikganj district.
Department of Agricultural Extension (DAE) said a total of 116 hectares of land was brought under the sweet potato cultivation in all seven upazilas of the district during the current season exceeding its fixed target.
Earlier, the DAE had set a target to cultivate sweet potatoes on 109 hectares of land with a production target of 2,035 tonnes this season.
The harvesting of sweet potatoes has already been completed as some early cultivated sweet potato has started to appear in the markets and the cultivators are happy to get its high price.
DAE sources said once Manikganj district was famous for sweet potato cultivation. Sometimes sweet potatoes were cultivated on about five thousand hectares of land in the district, they said.
But the producers did not get their desired prices of the product and so they declined its cultivation.
Sweet potato cultivator Abdul Alim, 70, of Kusherchar village under Manikganj sadar upazila said, "Some years back, we had to sell Taka 30-35 per maund and we did not make profit by selling it in the market."
Now sweet potatoes are used as one of the best vegetables.
At present, per kilogram (Kg) sweet potato is being sold at Taka 35-40 in the markets. Even early harvesting sweet potatoes was sold at Taka 45-50 per kg, Alom said.
Another grower Ahmad Ali of Bishnupur village under Daulatpur upazila said sweet potato cultivation is easy and it needs no fertilizer and irrigation.
The sandy and half-sandy land is suitable for sweet potato cultivation, the DAE sources said.