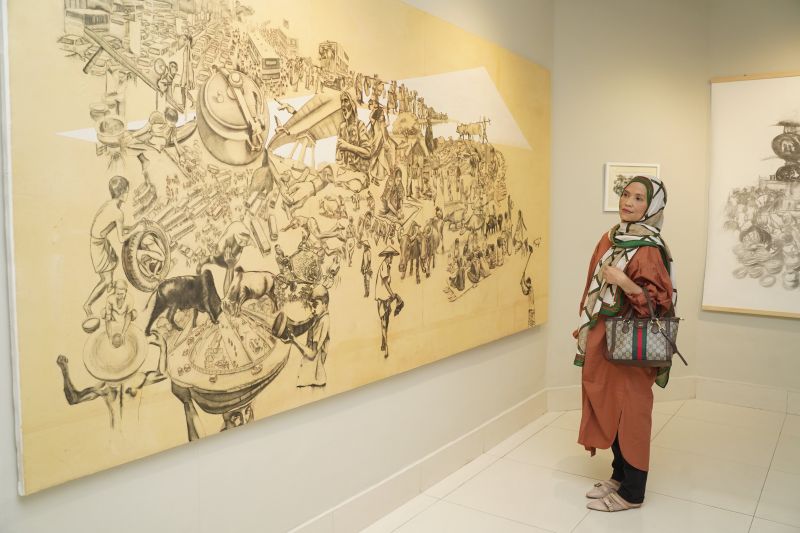 Solo art exhibition of Rakibul Anwar begins at Alliance Francaise, Dhaka

A solo art exhibition titled সংলগ্ন/ Shonglogno by Rakibul Anwar has begun at La Galerie, Alliance Française de Dhaka on Friday. In presence of eminent artist Prof. Dhali Al Mamoon, artist and critic Mustafa Zaman inaugurated the exhibition.

Rakibul Anwar (b. 1993) is a visual artist based in Dhaka, Bangladesh. After completing his MFA from the Department of Drawing and Painting, Faculty of Fine Arts, University of Dhaka in 2017, the artist has simultaneously engaged in creating works of art, participating in both national and international exhibitions and artist residency programs conducted in Bangladesh, United Kingdom & Germany, including 24th National Art Exhibition, 21st and 22nd Young Artists Exhibition, Bangladesh Shilpakala Academy, Dhaka and Documenta 15, Kassel, Germany. He has also collaborated with contemporary artists and art associations such as the British Council, Britto Arts Trust, Bengal Shilpalay, Brihatta Art Foundation, Platform Art Space, Dhaka, Bangladesh and Tara Theater, London, UK.
Rakib's artworks have a metaphoric potency that invites the viewer to discover the interconnectedness of the elements within his paintings. Rakib actively observes his surroundings – be it space, people, structures, shapes or other subtler things. Once he has taken an active interest in something – he spends time ruminating on it - inviting memories, feelings and reactions from within him. In his first solo exhibition, Shonglogno (adjacent / contiguous / coherent), Rakib has put together a body of work that showcases all the aforementioned qualities and more.
Hence along with several mixed-media paintings produced in watercolor, acrylic, charcoal and ink medium, 40 drawing-based artworks can be found, through which the artist expresses himself in his preferred manner, with a sensitive focus on materials, tools, and technique application.
The exhibition will be open to all till Wednesday, 30 November 2022.
Visiting Hours: Monday to Saturday from 3 pm to 9 pm. Closed on Sunday. – Press release