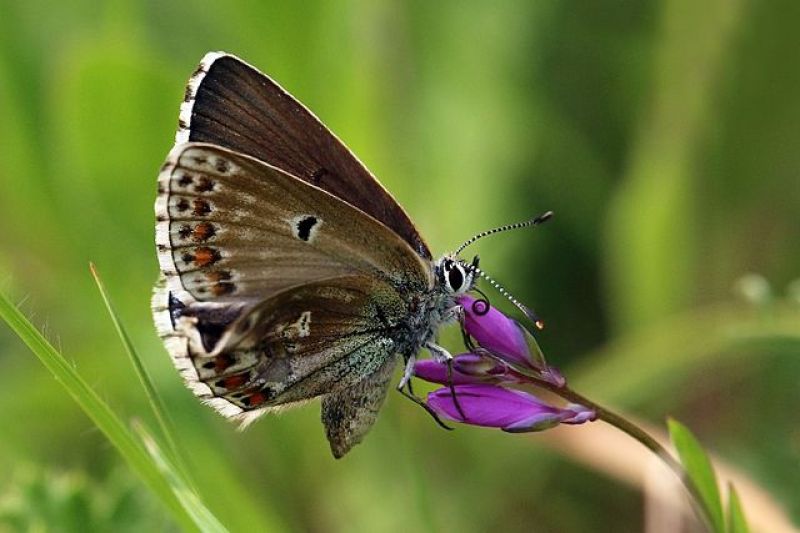 Biodiversity. Adonis blue butterfly. Charles J. Sharp. Creative Commons.

A new report from Friends of the Earth International spotlights how 'Nature Based Solutions' are a dangerous deception and distraction from the real solutions to the climate crisis (Item 1). The report traces the origins of the concept, how it is manipulated by big business, and what is driving it.

The report finds that 'Nature Based Solutions' would allow corporations and governments to continue with business as usual while failing to cut carbon emissions at source. The amount of land required to mitigate carbon emissions at the scale suggested by its promoters would be so vast that this would mean kicking farmers and communities off their lands, destroying their livelihoods and razing local wildlife. Moreover, the concept threatens to co-opt and corrupt genuine solutions from social and peasant movements which practice genuinely close-to-nature farming approaches, such as agroecology and community forest management.
As the climate and biodiversity crises are interconnected, the Global Biodiversity Framework currently negotiated under the Convention on Biological Diversity also addresses climate issues. The initial draft of the framework introduced "Nature Based Solutions" as the answer to these interconnected crises.
Draft 1, which is the current basis of the negotiations, does not includes "Nature Based Solutions". However, in its Target 8, it proposes that biodiversity should be responsible for mitigating 10 Gt CO2-e. This would lead to, for example, more monoculture tree plantations and BECCS projects, which spell landgrabbing, rights violations and inaction on real emissions cuts.
A briefing, also from Friends of the Earth International, explains what should be in the Framework's climate target, and why the 10 Gt CO2-e simply doesn't make sense (Item 2).
https://www.foei.org/press_releases/ahead-of-un-climate-summit-friends-of-the-earth-international-spotlights-how-nature-based-solutions-is-being-used-to-disguise-climate-trashing-business-as-usual
- Third World Network