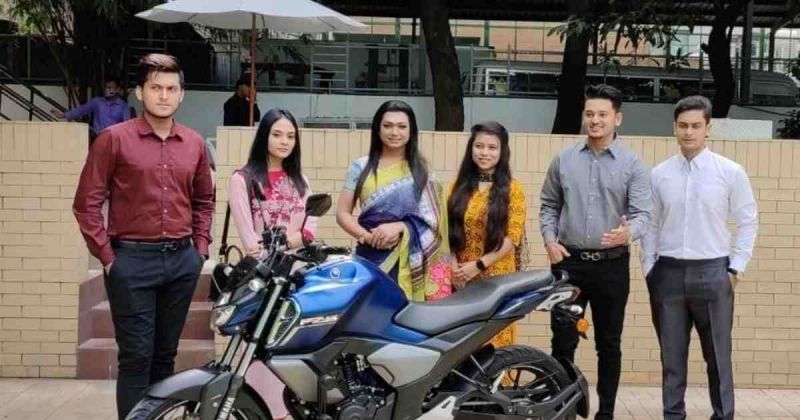 Renowned model, artist and social worker Tashnuva Anan Shishir breaks the social barrier again.

Dhaka, Jul 27 : Renowned model, artist and social worker Tashnuva Anan Shishir breaks the barrier of social stereotypes once again, this time with her appearance in the mainstream commercial advertisement industry in the country for international motorcycle brand Yamaha.

As the first transgender woman appearing in the advertisement industry for a globally renowned brand, Tashnuva Anan Shishir has recently acted in a commercial for Yamaha Motorcycles Bangladesh, a concern of ACI Motors Ltd.
The commercial, directed by Sojol Ahmed under the banner of Retro Pictures, has garnered an overwhelming response on social media with a stellar performance of herself and Niloy, telling an affectionate story between a jobholder duo of siblings.
Sharing her feelings and working experience with UNB, Shishir said she is extremely overwhelmed with her maiden advertisement for an international brand, marking only her second appearance in the advertisement industry.
"I cannot express how overwhelming and supportive the entire team was for the commercial of Yamaha, which is a globally renowned motorcycle brand. I was a little bit nervous as this was a big venture for me, but the shoot went very well with everyone's cordial cooperation," Shishir told UNB.
The first-ever transgender woman news presenter in Bangladesh, Shishir joined Boishakhi TV's newsdesk marking the occasion of this year's International Women's Day on March 8.
Alongside her activities in the media industry, Tashnuva Anan Shishir is currently pursuing her international Master's degree in the Master of Public Health (MPH) program at the Brac James P Grant School of Public Health (JPGSPH), Brac University with scholarships in two categories.
An active member of the renowned theatre troupe BotTala, Shishir has been working for theatre since 2007. She has recently appeared in Anonno Mamun's film 'Koshai' as a detective officer and will be seen on director's Syed Shahriar's upcoming cinema 'Goal' as a football coach.
In her illustrious career, she worked as the Case Management Officer in the Ovibashi Karmi Unnayan Program (OKUP) from June 2020, worked as the project officer in Bandhu Social Welfare Society and also worked in other voluntary projects before for organizations including Sangat - A Feminist Network, Roopban, Oboyob and Bangladesh Youth Leadership Center (BYLC).
She also served as the Executive Officer for the National Human Rights Commission, Bangladesh; Research Assistant for Re Think Bangladesh and ICDDR, B (International Centre for Diarrhoeal Diseases Research, Bangladesh), as well as the Cultural Facilitator for SEPP (Social Economic Enhancement Program), reports UNB.