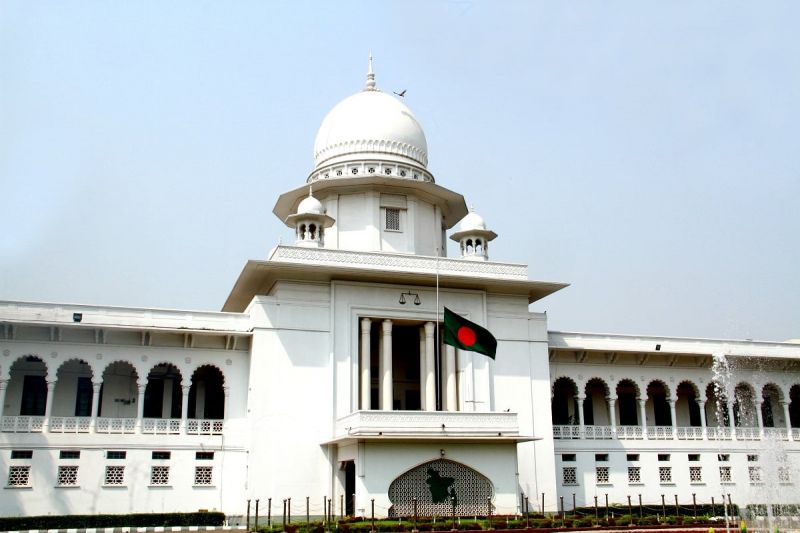 The High Court today issued a rule declaring mother as the legal guardian of a child in filling all kinds of official forms including SSC-HSC examinations and passport.

A High Court Division Bench consisting of Justice Naima Haider and Justice Md. Khairul Alam passed the judgment in the morning declaring the rule issued in this regard as absolute.
During this time, petitioners of the writ- Advocate Rezaul Karim, Advocate Ainun Nahar Siddika and Advocate Ayesha Akhtar and state's deputy attorney general Amit Das Gupta were present.
"The Constitution has given equal rights to everyone. If the father's name is not available, a child cannot fill the form, passport, which is conflicting with the provisions of the Constitution," Advocate Ainun Nahar told newsmen emerging from the court room.
"As a result of the ruling, there was no obligation to write the names of both the parents. Children without father's identity, children of sex workers can fill the form only with the mother's name from now on," she added.
Based on the information published in various newspapers in April 2007, it was known that the Board of Secondary and Higher Secondary Education, Rajshahi, Thakurgaon refused to give the admit card to a student to participate in the SSC examinations, as she could not fill the father's name in the information form as required by the board.
After being abandoned by the father, she grew up with the sole effort of her mother.
Later, based on the information received on the proper investigation of the incident and demanding the recognition of the mother as the child's guardian on August 2 in 2009, three human rights organizations - Bangladesh Legal Aid and Services Trust (BLAST), Bangladesh Mahila Parishad and Nari Pakkha jointly filed a writ in public interest.
On the preliminary hearing of the writ on August 3 of that year, the High Court issued a rule asking the concerned authorities as to why the existing discriminatory provision, which is an obstacle to access to human rights, equality and especially the right to education, should not be declared unconstitutional.
At the same time, the court asked to submit a report stating the measures taken in favor of the students not willing or incapable to write father's name in the forms.
On June 6 in 2021, BLAST filed a supplementary affidavit in court on behalf of the petitioners. After the final hearing of the writ, the High Court fixed January 24 as the day to announce the verdict, reports BSS.