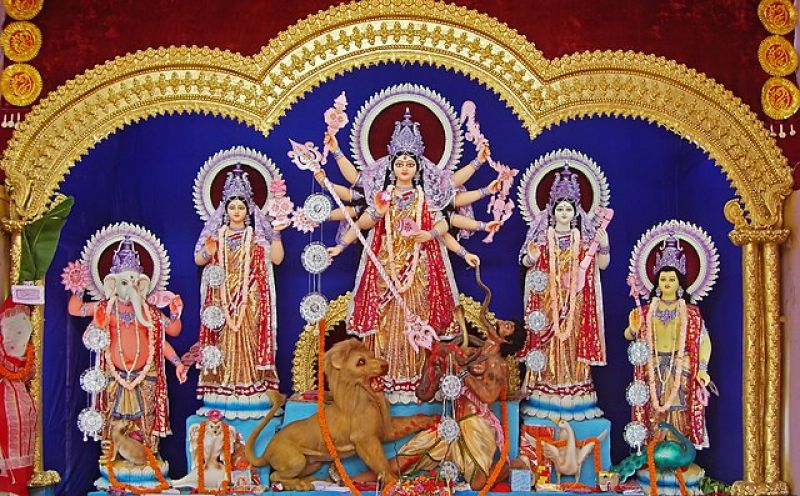 Durga idol created during Durga Puja. Creative Commons

Dhaka, Oct 20 - As many as 72 cases regarding last week's communal violence have been registered and 450 people have been arrested across the country till Tuesday, police said.

AIG (Media and PR) Mohammad Shah Jalal, who is in additional charge of the Bangladesh Police, said on Wednesday more cases are being filed and the operation to arrest the accused is continuing.
Besides the police, special units of the force have been involved in unravelling the facts behind the violence and crime, he said.
Technology-based investigations are underway to unravel the mystery quickly. Cyber monitoring has also been intensified to curb rumours and incitement through social media.
The police, Rab, BGB, other law enforcement agencies and all government intelligence agencies have been keeping a close watch on the situation to prevent the situation from deteriorating.
The AIG has made a special request to all the citizens of the country to immediately inform the nearest law enforcement agencies without being confused or agitated by any misleading information or rumours or provocations and to assist the law enforcement agencies in improving the situation.
On October 13, an unidentified person placed the Holy Quran on the idol in the temporary puja mandapa near Nanua Dighi of Cumilla Sadar. Later, some miscreants carried out provocative and distorted propaganda and tried to vandalize the idol of the temple and the puja mandapa. The miscreants also attacked the Chanmoni Puja Mandapa, Sri Sri Rakshakali Mandir, Kalitala and several other puja mandaps in Kaparia Patti Colony and set fire to idols.
Mohammad Shah Jalal said additional police have been deployed across the country. Police patrols have been intensified and intelligence surveillance has been stepped up to prevent the situation from deteriorating in Cumilla.
He said that due to the incident in Cumilla, 500-600 miscreants attacked Shri Trinayani Sangha Raja Lakshmi Narayan Jiur Akhra, Hakimabad Pujamandap in Hajiganj of Chandpur District. When the police tried to stop them, they attacked the police and vandalized five to six mandapas. Fifteen policemen were seriously injured when the miscreants hit them with bricks. Five people lost their lives in this incident when police opened fire for protection.
On October 14, 800 to 1000 rioters gathered near the Sri Sri Durga Puja temple in Chayani Union of Begumganj in Noakhali district and started chanting provocative slogans. At one point, they attacked the magistrate, police and BGB patrol in front of the temple. They also vandalized the temple idols and set the temple on fire. One person was killed in the incident and later another body was recovered from the pond.
On October 18, some miscreants carried out arson attacks at the houses of Hindu community members at Boro Karimpur Majhipara village in Pirganj upazila of Rangpur district over a post on social media. The attackers in the area set fire to the houses of 18 families, including a temple in the village.
Besides, attacks and vandalism took place in Pekua and Chakaria police stations of Cox's Bazar district, Zakiganj of Sylhet district, Kulaura and Kamalganj of Moulvibazar district, Nabiganj of Habiganj district and Kashimpur police station of Gazipur metropolis. Seven people lost their lives in all these incidents. Of them, two were Hindus and five Muslims. Fifty policemen were injured while on duty to bring the situation under control. - UNB