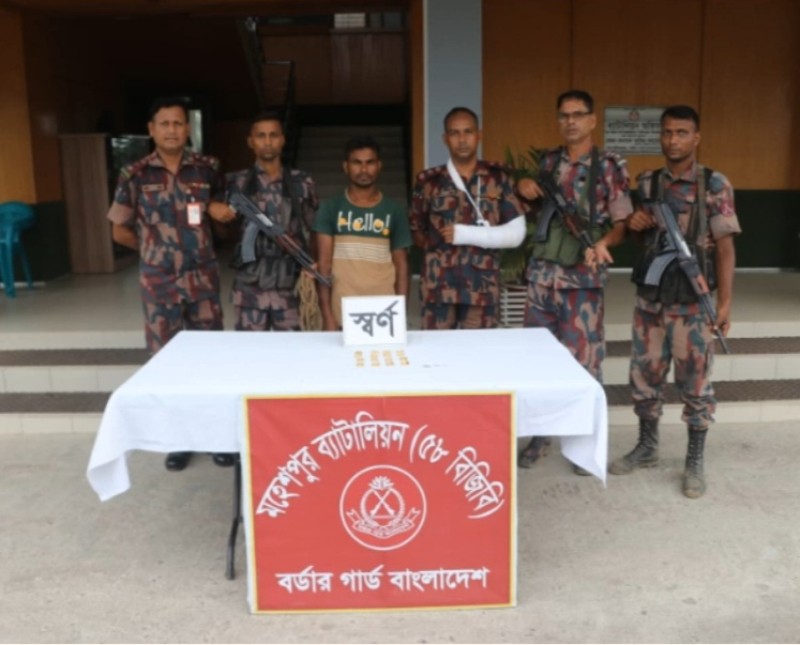 Security officials on Thursday arrested a man and recovered 28 gold bars and jewellery from Bazarpara and Pathila Eidgah areas of Jibannagar upazila under Chuadanga district.

The arrestee was identified as Selim Hossain, 30, resident of Nepa Baghadanga village in Maheshpur upazila of Jhenaidah district.
Chuadanga Police Superintendent Abdullah Al-Mamun said tipped off, a police team took position at Bazarpara area. Sensing the presence of the police, a trafficker abandoned his motorcycle and fled.
Later, police searched the motorcycle and recovered 12 gold bars worth of Tk 1.27 crore and 6 bhori jewellery worth of Tk 5.7 lakh.
Mohammad Saiful Islam, assistant director of BGB-58, said a BGB team took position in the area adjacent to the field of Eidgah para of Pathila village of the upazila. Two men were going to the border area on motorcycles. When the BGB patrol team chased them, Selim Hossain slipped from the back of the motorcycle.
Later, the BGB members detained Selim Hossain and recovered 16 gold bars worth of Tk 1.6 crore.
The recovered gold will be deposited at the Chuadanga Treasury Office following legal process, reports UNB.