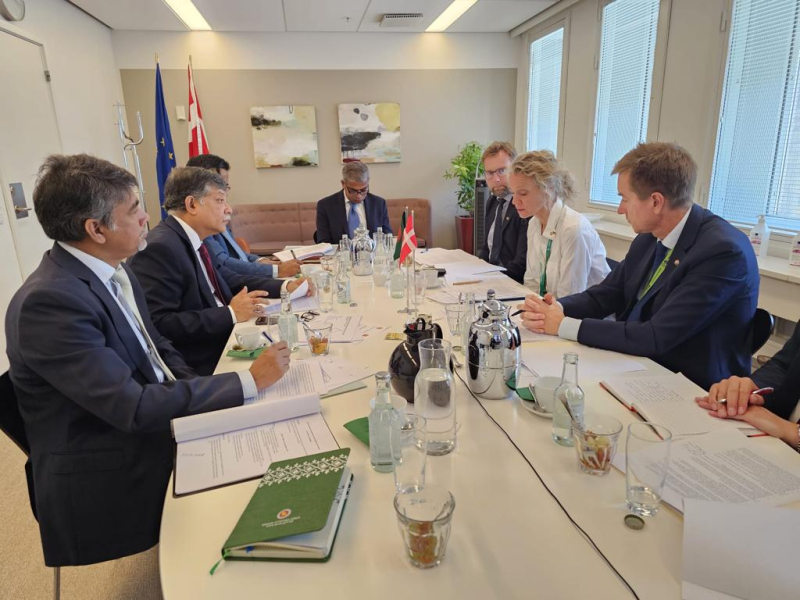 Bangladesh and Denmark have agreed to partner in green and clean technologies and investment for sustainable development. 

Both sides underscored the importance of improving ease of doing business in Bangladesh for more Danish investment in Bangladesh.
The issues were discussed at the second Bangladesh-Denmark political consultations held in Copenhagen on Friday. 
The political consultations approved Bangladesh-Denmark joint action plan for the period 2023-2028 under the sustainable and green framework engagement signed between the two countries last year. 
The joint action plan will be launched during the visit of the Danish Minister for Development Cooperation and Global Climate Policy Dan Jorgensen to Bangladesh from June 12-13, according to the Ministry of Foreign Affairs. 
Denmark expressed keen interest to deepen cooperation with Bangladesh in the fields of renewable energy, energy efficiency, circular economy, sustainable urbanization, sustainable water management, climate change adaptation, agro-and-food processing, maritime, ICT and blue economy sectors.
Foreign Secretary Masud Bin Momen and Lotte Machon, State Secretary for Development Policy, Ministry of Foreign Affairs of Denmark led the respective side at the political consultations.  
Bangladesh side underscored the importance of collaboration in science and technology, particularly in higher education in Danish universities for Bangladeshi students, training of law enforcement officials in Denmark on cybercrime prevention, digital economy and startups, etc.
Both sides exchanged views on recent political developments in Bangladesh and Denmark and on various regional and global issues of mutual interest and concerns, including Rohingya crisis, Indo-Pacific, war in Ukraine and climate change.
They also expressed their desire to closely cooperate on different elections in UN and other fora.
After the political consultations, Foreign Secretary Masud Bin Momen and Danish State Secretary for Trade and Global Sustainability Lina Gandlose Hansen held a courtesy meeting and discussed ways for enhancing Danish investment in Bangladesh.
Bangladesh Ambassador to Denmark Shahidul Karim, Denmark's Ambassador to Bangladesh Winnie Estrup Petersen (virtually), Ambassador-designate of Denmark to Bangladesh Christian Brix Moller and Director General (West Europe & EU) of the Ministry of Foreign Affairs Kazi Russel Pervez, among others, joined the political consultations, reports UNB.