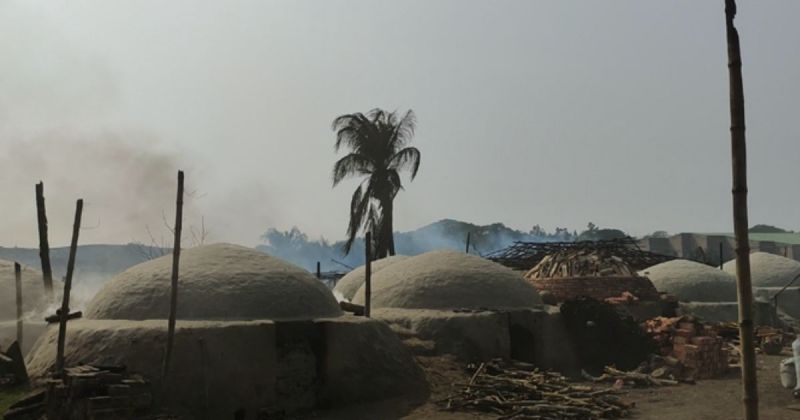 Illegal coal furnaces in Khulna continue to pollute the environment.

The family's ordeal began a couple of years ago when their son suddenly developed a nagging cough.
Over the next few months after the clock struck 11am daily, Jamila Khatun and her husband knew what was coming -- so they would close her windows and wait for the inescapable.
Soon, the family home in the Shinger Char area of Aichgati union in Khulna's Rupsha upazila would be filled with a pungent smell. And her son would start coughing.
It was only after she got in touch with a local doctor that she came to know about the source of her son's persistent cough -- exposure to smoke from several illegal coal furnaces in the area.
"My son starts coughing soon after these illegal coal furnaces start emitting smoke from their chimneys. Every month, I spend Tk 1,000 on doctor visits and medicines," Jamila told UNB.
Jamila's family is not alone. Several people in the upazila have similar tales to narrate.
Despite regular government drives against illegal coal furnaces in the upazila, nothing concrete has materialised to date -- toxic fumes from these units continue to pollute the environment.
"Apart from breathing difficulties, many children have developed skin problems," said another parent. "Local authorities should take some concrete steps to shut these illegal furnaces once and for all."
"It's high time they took strict action against the polluters," said Anjira Khatun, another resident.
The illegal coal furnace owners, on the other hand, say they are continuing with the family business to meet their both ends meet.
"We know our business is not legal, but we are helpless. Moreover, there's a good demand for coal across Bangladesh," said Jamal Khan, one such owner.
Khulna's district environment inspector Maruf Billah said that their drive against the illegal coal furnaces would continue.
When contacted, Rupsha's acting upazila nirbahi officer Sajjad Hossain, said, "Immediate legal action will be taken against these illegal coal furnace owners."