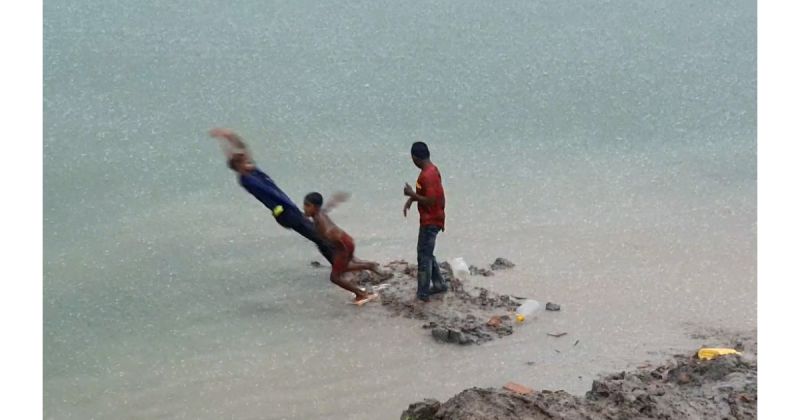 Residents of Faridpur and Patuakhali woke up to a wet spell on Wednesday morning, as Asani weakened.

Residents of Faridpur and Patuakhali woke up to a wet spell on Wednesday morning, as Asani weakened into a cyclonic storm and triggered intermittent overnight drizzle.
The first drops of rain in the two districts came with a cool breeze, bringing the much-needed reprieve to the residents from the sizzling summer heat.
Surujul Amin, in-charge of the Faridpur weather office, said the partly cloudy sky in the morning and the drizzle were due to Asani weakening into a cyclonic storm.
The local Met office has recorded 51.2mm of rainfall activities in the past 24 hours till Wednesday morning, he said. "It will continue for two more days."
In Faridpur district town, many people preferred to stay indoors due to the drizzle and enjoy the pleasant weather. Traffic was less on the roads, as a result.
Deputy director of Faridpur department of agriculture extension (DAE), said, "If the light showers continue for two more days, then the litchi growers and onion farmers may face massive crop damage."
UNB Patuakhali correspondent reports: Rahat Hossain, a meteorologist with the Patuakhali weather office, said, "Light to moderate showers are likely to continue for two more days in the district."
Besides, the residents of coastal areas of the district are likely to witness a tidal wave after two days of rainfall activities. However it will depend on the effect of 'Asani'.
Meanwhile, the movement of small ferries on 18 internal routes of Patuakhali has been suspended due to the inclement weather.
Asani, the severe cyclonic storm in the Bay of Bengal, moved west-northwestwards in the west central Bay and adjoining areas this morning and weakened into a cyclonic storm.
It was centred over the west-central Bay off Andhra coast, about 1,335 kms southwest of Chattogram port, 1,310 kms southwest of Cox's Bazar port, 1,150 kms southwest of Mongla port and 1,180 kms southwest of Payra port around 6am, the Met office said.
It is likely to move in a northwesterly or northerly direction and weaken gradually into a deep depression in the next 24 hours, according to the Met office special bulletin.
Maximum sustained wind speed within 54 kms of the cyclone centre is about 62 kmph rising to 88 kmph in gusts or squalls. Sea will remain very rough near the cyclone zone.
Maritime ports of Chattogram, Cox's Bazar, Mongla and Payra have been advised to hoist distant warning signal number 2 to warn ships living the ports of a depression at the sea.
All fishing boats and trawlers over the north Bay and in the deep sea have been advised to remain close to the coast and proceed with caution. They have also been advised not to venture into the deep sea.