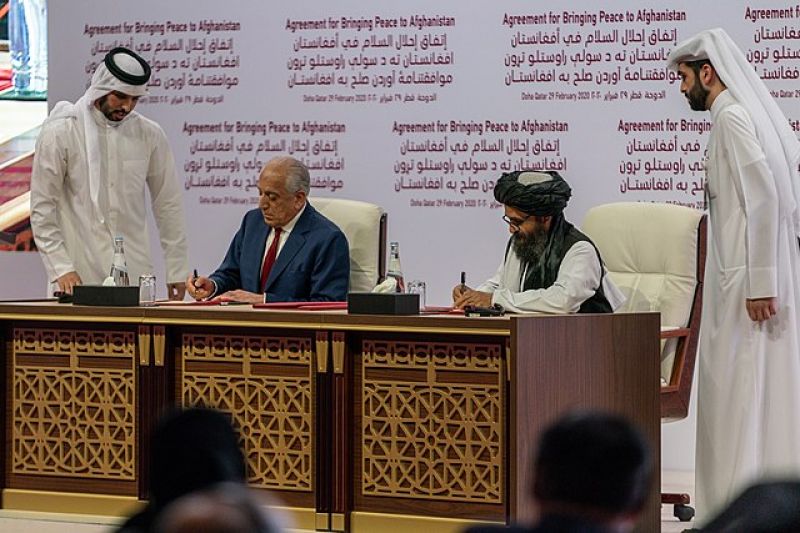 Taliban representative Abdul Ghani Baradar (right) and US representative Zalmay Khalilzad (left) sign the agreement in Doha, Qatar on February 29, 2020. Wikimedia Commons.

US President Joe Biden is at the receiving end of the debate on the rationale behind the decision to pullout troops from Afghanistan after 20 years of bloody war and investment of two trillion dollars. Many in the Western world call it a defeat at the hands of the Taliban which was dislodged from power for refusing to hand over Osama Bin Laden who is held responsible for the 9/11 attack on the United States in 2001.

The Afghan armed forces, 300,000-strong in Joe Biden's words, literally collapsed in merely a week's Taliban advance with 60,000 men, and their leader President Ashraf Ghani fled before the fall of Kabul. Taliban fighters captured cities after cities without resistance before coming to the capital where they expected transfer of power from President Ashraf Ghani through a transitional administration.
The final days as those unfolded reflected no outcome of the work that the US forces and those of NATO did for two decades spending over a trillion dollars to train and arm the Afghan armed forces. During all those years they tried to modernise the country. As against the well-equipped Afghan Armed forces, the Taliban fought mostly with rifles and yet they overran the country with effortless ease.
The fate of Afghanistan was in fact sealed with the signing of an 'Agreement for Bringing Peace to Afghanistan' between the United States and the Taliban in Doha, Qatar on February 29, 2020 at the instance of former US President Donald Trump to facilitate the withdrawal of American troops from that country. The Afghan government was not made a party to it.
However an inescapable question here is what training did the US troops and those of their allies impart to the Afghan forces that did not work at all.
Many equated the capture of Kabul on Sunday August 15 by the Taliban and the evacuation by the US and its allies with the capture of Saigon by the People's Army of Vietnam (PAVN) and the Viet Cong on 30 April 1975 at the close of the Vietnam War. According to reports the US lost lives of 7,057 servicemen and saw 30,177 suicides among service members and veterans of the post 9/11 wars. Was this sacrifice and the monetary loss worth making, they ask.
The Taliban in their first open press conference two days after the Kabul takeover sought peaceful relations with the international community and promised not to shelter militants hitting targets abroad. They declared general amnesty to all Afghans who fought the Taliban and promised to ensure human rights and women's rights under 'our own culture'. This statement and the avoidance of revenge killings during the takeover the whole country reflect a change in their mental makeup. The turn of events will show how long it lasts.