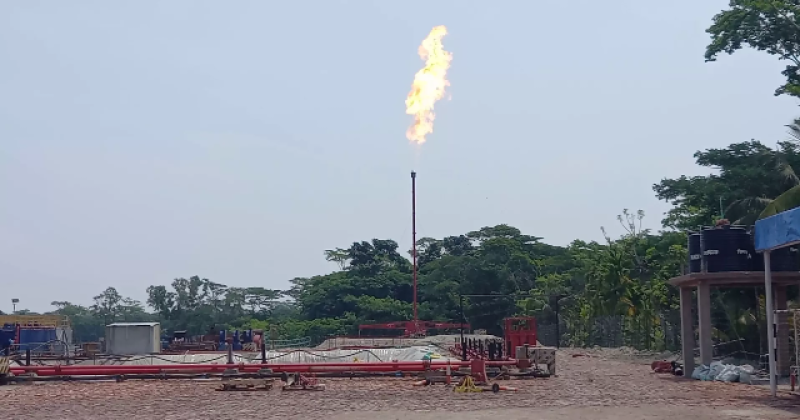 Ilisha - 1 Gas Field in Bhola

Dhaka, May 22 -Ilisha-1 in Bhola district was announced as the country's 29th gas field where a big reserve of gas was discovered recently.

"We believe, Ilisha-1 has a reserve of 200 billion cubic feet (bcf) of gas. The entire Bhola area including this one have a reserve of 3 trillion cubic feet (tcf) of gas," State Minister for Power, Energy and Mineral Resources Nasrul Hamid told reporters while briefing at his residence in the city on Monday while announcing the formal discovery of the gas field.
He said this has been big good news for the people of the country.
Ilisha-1 is located in a union in Bhola district, 182 km off the capital.
On 8 March this year, Ilisha-1 excavation started in the Maler Hat area of Ilisha union in Bhola Sadar upazila and the drilling was completed successfully on 24 April through the Drill Stem Test in three levels at a depth of 3,475 metres.
The state minister said earlier gas was found in different wells under Bhola north and Bhola south structures.
He said a plan is being prepared to bring gas from entire Bhola area to Dhaka through pipeline where many industries are facing nagging crisis.
A pre-feasibility was conducted about the pipeline and now work is underway for conducting a feasibility study on the issue, he noted.
Nasrul said it will take about thee years to bring the gas from Bhola to Dhaka through pipeline.
But initially, he said, a private company has signed a contract to bring a total of 25 mmcfd gas from Bhola through big trailer. Primarily, it will star with 5 mmcfd transportation.
He said the government has a plan to create a ring-fence of pipeline covering Bhola, Barishal, and Dhaka to use the gas for this region while another ring-fence will be created covering the Dhaka, Sylhet and other districts.
He said the commercial value of gas in Bhola will be Tk 6500 crore if calculated in local value and Tk 26000 crore in the value of gas being imported from abroad.
Nasrul said the Ilisha -1 gas field's discovery was announced after completion of necessary drilling and other works.
Currently, about 2300 mmcfd gas is being produced from 22 gas fields in the country, while about 700 mmcfd gas is being imported from abroad to meet the demand of about 4000 mmcfd, leaving a deficit of about 1000 mmcfd.
Apart from Ilisha-2 , the two Bhola gas fields have around 200 mmcf production capacity, while the production hovers between 80-85 mmcf.
Therefore, around 120 mmcf surplus capacity remains unused in the eight wells of the Shahbazpur and Bhola gas fields.
Due to the lack of pipeline and transmission facilities, the government was unable to supply the surplus gas from the Bhola field to other energy-hungry industrial zones in Dhaka and elsewhere. - UNB