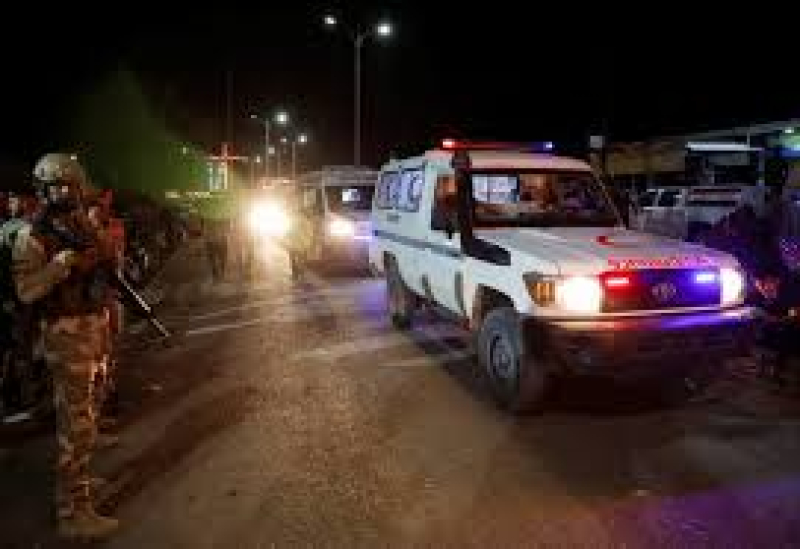 Rescue workers picked through the rubble on Wednesday after a massive fire at a crowded Iraqi wedding hall that was thought to have killed at least 100 people, despite conflicting preliminary tallies from different officials and organizations.

Over 100 more people sustained injuries caused either by flames, smoke or the crush as people tried to flee the reception facility beneath a partially collapsed ceiling.

Officials and footage apparently from the scene suggested that indoor flares or fireworks had set the ceiling decorations alight, soon engulfing the building in flames.

Three days of national mourning
Iraqi Prime Minister Mohammed Shia al-Sudani declared three days of national mourning.

He also ordered "intensified periodic inspections" of entertainment venues nationwide to "ensure that safety measures are followed" and to "identify any noncompliant buildings."

Safety standards are not always followed in Iraq's construction sector and the country, with crumbling infrastructure after decades of conflict, is often the scene of fatal fires and accidents.

City officials said the building in question had been fitted with pre-fabricated panels that were "highly flammable and contravened safety standards."

The AFP news agency cited Interior Ministry spokesman General Saad Maan as saying that nine of the venue's staff were arrested and warrants had been issued for its four owners.

First funerals as relatives identify bodies
The mainly Christian city of Qaraqosh in the Niveneh region, not far from Mosul, started burying and identifying its dead on Wednesday. The area was only liberated from occupation by the so-called "Islamic State" a few years ago.
Dozens gathered at a local hospital to donate blood as ambulances, health workers and the military gathered around the facility, AFP reported.
Elsewhere, large crowds convened for open-air funerals honoring the first identified victims.

Conflicting but large preliminary tallies
Officials and rescue services offered conflicting numbers of dead and wounded on Wednesday, but most put the tally above 100 and cautioned that it could rise further with many more injured.

State news agency INA said health authorities "counted 100 dead and more than 150 injured in the fire" in what it described as a "preliminary toll."

Nineveh Deputy Governor Hassan al-Allaf told Reuters news agency 113 people had been confirmed killed, while the region's director of health services told a news conference that 94 had been confirmed dead and 30 of those identified.

The Iraqi Red Crescent reported roughly 450 casualties, without providing a breakdown of dead and wounded.

The injured were mostly being treated for injuries caused either by exposure to flames, smoke inhalation, or sustained during a crush trying to leave the partly-collapsed building's emergency exits, reports DW.