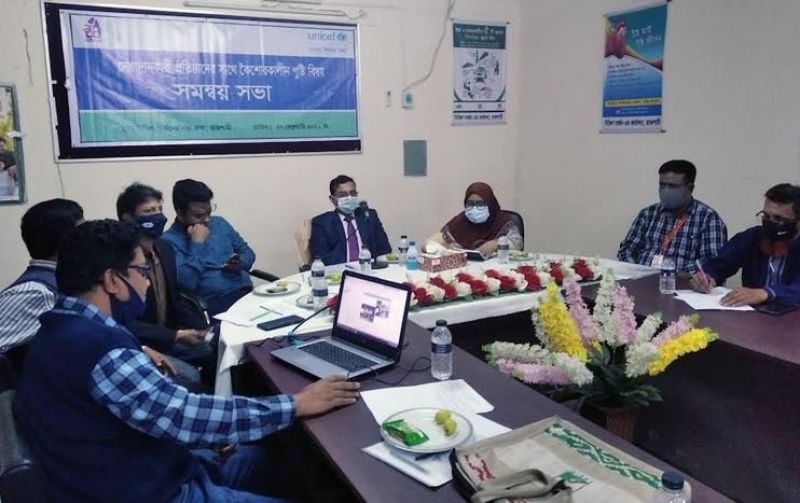 Concerned be the best ways of ensuring nutritious food. to adolescent

Concerted efforts of all the government and non-government organizations concerned can be the best ways of ensuring nutritious food to adolescent boys and girls for their physical and mental development equally.
Utmost emphasis should be given on generating awareness among the public in general so that they can provide protein-enriched foods to their growing children as they are the future contributors to the nation.
Health experts and development activists came up with the observation while addressing a coordination meeting with the service-delivery organizations related to adolescent nutrition on Sunday.
The Association for Community Development (ACD) hosted the meeting at the conference hall of the Civil Surgeon (CS) Office supported by UNICEF.
CS Dr Abu Sayeed Faruque, Chief Health Officer of Rajshahi City Corporation Dr AFM Anjuman Ara Begum and UNICEF Rajshahi Divisional Nutrition Officer Abdullah Al Amin addressed the meeting as focal persons.
ACD Programme Manager Monirul Islam welcomed the participants.
Abdullah Al Amin told the meeting that malnutrition puts adolescents into a state of compulsion to usually suffer from physical and mental disorders that appears as a threat to their future development.
Some of the major nutritional problems like protein energy malnutrition,vitamin A deficiency, iodine deficiency disorder, iron deficiency anemia, low birth weight, over nutritional and its complication and lack of nutrition knowledge need to be removed with collective efforts.
He added that time has come to improve the nutritional status of both adolescent boys and girls as the highest rate of malnutrition has been found among them living in the slums of the city.
In his remarks, Dr Sayeed Faruque said the service delivery organizationsshould arrange necessary counseling for pregnant women and breast feeding mothers, group meetings for adolescents and courtyard meetings for family members and children to discuss the need-based issues.