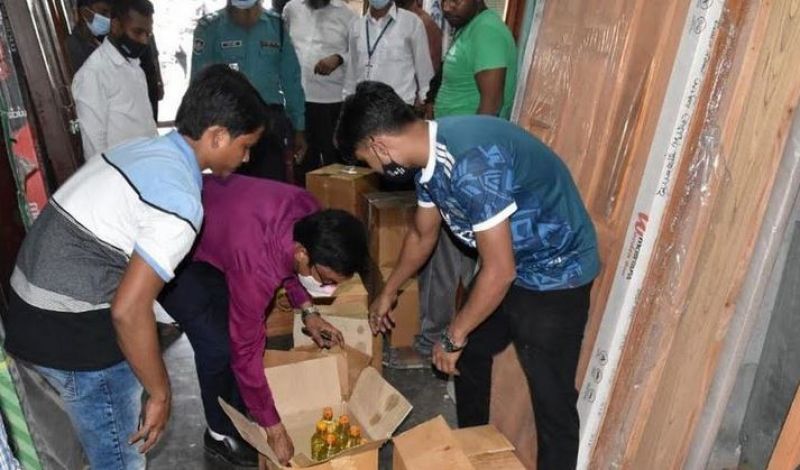 Punitive action is being taken against those who are engaged in hoarding edible oil .

Punitive action is being taken against those who are engaged in hoarding edible oil with an ulterior motive to create an artificial crisis of the essential product.
In the last three days, the Directorate of National Consumer Right Protection (DNCRP) conducted special drives at different areas in the city and found four traders hoarding a huge number of 5-litre bottles of soybean
oil.
Subsequently, the DNCRP officials fined them Taka 1.40 lakh for their malpractice.
These were revealed in a meeting held at the conference hall of Deputy Commissioner (DC) here on Monday evening. The meeting discussed and devised
ways and means on how to combat the malpractices of creating artificial crises of edible oil.
Chaired by DC Abdul Jalil, the meeting was addressed, among others, by Additional DC Kolyan Chowdhury, Regional Head of Trading Corporation of
Bangladesh (TCB) Shahidul Islam, President of Rajshahi Chamber of Commerce
and Industries Masudur Rahman, Director Mustafizur Rahman and DNCRP Assistant Director Masud Ali.
DC Abdul Jalil said there is no deficit of edible oil in the market but the crisis has been created for the last couple of days due to hoarding tendencies by some dishonest traders.
"We have stock of edible oil for the next three months," he added.
He said the government has taken the decision of selling oil, sugar, pulse and onion to around one crore people ahead of the holy month of Ramadan
at subsidized rates throughout the country. In Line with the massive initiative, two lakh family cards were already distributed in Rajshahi.
TCB will start distributing consumer goods from March 15 next. DC Abdul Jalil sought all-out cooperation of the business communities to control the
price hike of edible oil.