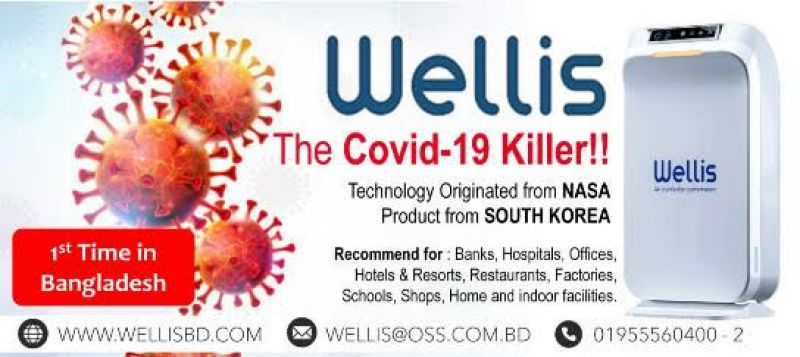 Wellis, the Covid-19 killer

COVID-19 is getting worse day by day. But we can't stop our daily operations due to this. We, Optimum Solution and Services Ltd. are here with the Military Technology based WELLIS Air and Surface disinfection Solution (The Covid-19 Killer Device) which completely chemical substances free and no maintenance require. It disinfect not only air but also surface and human respiratory system.

WELLIS is developed by South Korea partnering with Spain for Co-R&D work and Government supported research institutes.
Our aim is to ensure a safe indoor environment through disinfecting indoor air and surface and protect people from contagious diseases due to COVID-19 & other viruses, bacteria, mold and other hazardous elements. So keep your premises 100% COVID-19 free with a minimum monthly cost. We are officially supplying this devices nationwide.
WELLIS's key competitive advantages are:
• It runs 24 hours at human presence
• It disinfect not only air but also surface which is very important for industries where workers used to work with machineries and raw materials.
• It has remarkable technology that eliminates even viruses and bacteria that penetrate the human body
• No expensive filter or UV light
• No harmful chemical substances such OZONE, Hydrogen peroxide, UV etc. disseminate
• No operator or maintenance work is required
• Very low power consumption which is 3.6 watt/hour
• Small, smart and portable
- Press release