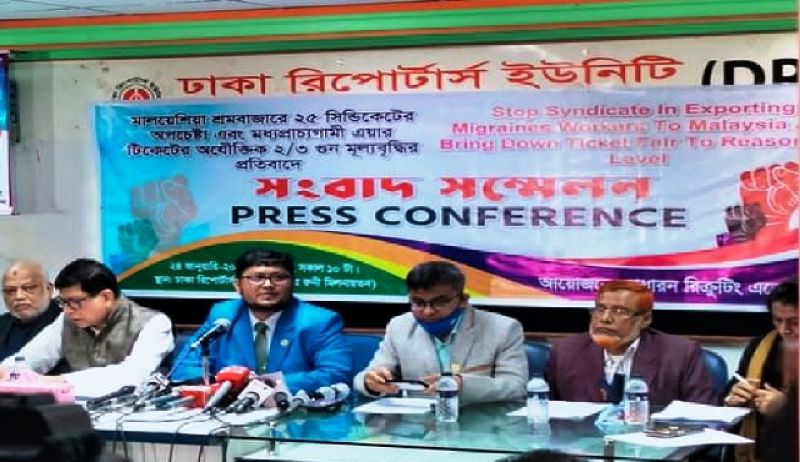 Manpower recruiting agents address a press conference at the Dhaka Reporters' Unity on Monday. UNB

Dhaka, Jan 24 - The general manpower recruiting agents of Bangladesh jointly expressed their stand against allowing "a 25-agency syndicate" for exporting manpower to Malaysia.

The agents announced this at a press briefing held at Dhaka Reporters Unity on Monday.
They said it was unfair, unwanted and humiliating for Bangladesh that Malaysian Minister for Human Resources Sarvnan sought a list of 25 agencies and 250 sub agents from expatriates' welfare and overseas employment ministry.
All recruiting agencies are of equal quality and they have acquired license by providing same amount of caution money so they can't be considered sub agents of 25 chosen ones.
They also questioned on what basis the 25 agencies and sub agent's qualifications will be measured.
They said, earlier in 2016, 10 agencies were approved and 210 others as sub agents but in real none other than those 10 agencies could send workers to Malaysia.
Those agencies took two to three times more plane fare from the expat workers sent from Bangladesh to Malaysia, they said.
The agents expressed their concern that those 10 agencies will try to misappropriate approval for these 25 "syndicates" like before from the Prime Minister Sheikh Hasina.
Mentioning all the recruiting agents from countries like Nepal, India, Sri Lanka, Indonesia and Pakistan can send their workers without any syndicate to Malaysia, they said Bangladesh as a sovereign country should also be allowed the same.
However the agents appreciated the letter sent by Expatriates' Welfare and Overseas Employment Minister Imran Ahmed to Malaysian government proposing open recruitment from all the legal agencies of Bangladesh on January 18.
They demanded including the proposal at the upcoming meeting of Bangladesh-Malaysia working committee and its implementation. - UNB