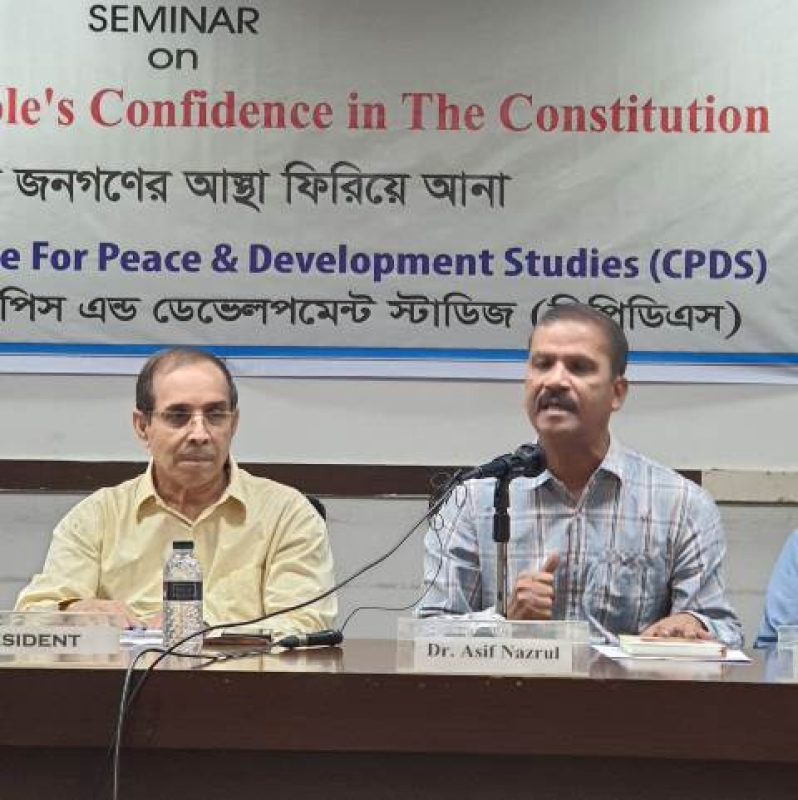 Prof Asif Nazrul speaking at a seminar on Restoring the confidence on the Constitution on Saturday at the National Press Club

Prof Asif Nazrul of Dhaka University has said that fair election to choose people's representatives and checking corruption are needed to restore people's confidence in the Constitution.

Talking as the keynote speaker at a seminar at the National Press Club on Saturday Prof. Asif Nazrul also said that the real life work must reflect the basic principles of state policy for the constitution to be respected by all.
The seminar on restoring people's confidence in the Constitution was organised by the Centre for Peace and Development Studies (CPDS). Mostafa Kamal Majumder, chairman CPDS, presided over the seminar moderated by its Executive Chairman Jahangir Chowdhury.
Former Vice-Chancellor of Patuakhali University, Prof. Abdul Latif Masum, senior advocate of Supreme Court Iktidar Ahmed and former diplomat Saquib Ali also spoke at the function.
Prof. Asif Nazrul said we must understand that there can't be democracy through questionable election. Socialism and social justice is impossible if criminals are not brought to justice and if corruption is rampant. Similarly to uphold the principle of secularism all religious communities should be treated on an equal footing.
Prof. Abdul Latif Masum said that there is a wide gap between what's written down in the Constitution and what's there in practice.
He called for associating the masses of the people with the movement for democracy.
Eminent lawyer of Supreme Court Iktidar Ahmed said, the rulers in our country always used the Constitution in their own interests.
Former diplomat Saquib Ali said that the people of this country are always distanced from the system of governance.