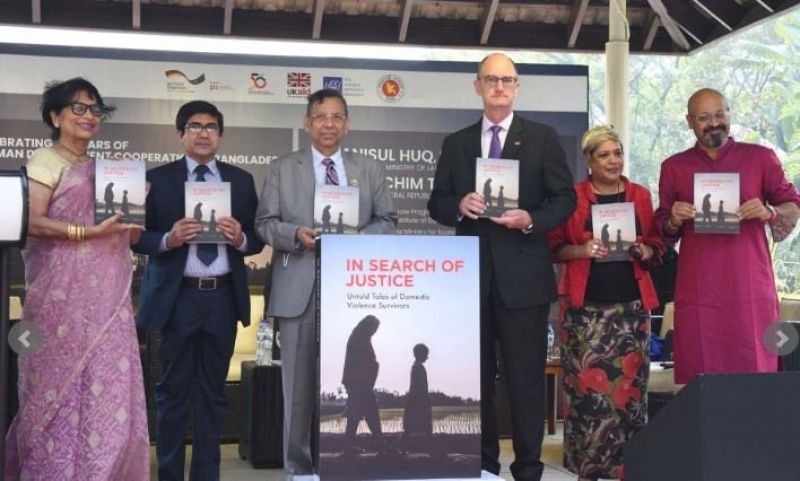 Law, Justice and Parliamentary Affairs Minister Anisul Huq today said the present government led by Prime Minister Sheikh Hasina has taken multi-dimensional steps for women empowerment in the country.
"The government has formulated Women and Children Repression Prevention Act, 2000, Domestic Violence (Prevention and Protection) Act, 2010, and Domestic Violence Rules. It has established One Stop Crisis Centre, Victim
Support Centre and National Helpline Centre and implemented a Comprehensive National Action Plan to resist violence against women and children," the law minister said.
Anisul Huq said these while addressing as the chief guest at a function marking 50-year celebration of German Development Cooperation in Bangladesh and unveiling the cover of a book titled "In Search of Justice: Untold Tales of Domestic Violence Survivors". The law minister unveiled the cover of the book with German Ambassador Achim Tr"ster at Radisson Blu Dhaka Water Garden in the capital.
The law minister in his speech also called for keeping all the service systems including judiciary active in all kinds of situations to ensure remedy for violence and justice.
"This 2022 is very special as we are celebrating 50-year of friendship and partnership between Bangladesh and Germany. Germany is one of those first countries, who recognized Bangladesh as an independent nation. Germany has been standing beside us since 1972 as one of our main partners. It has been providing technological support in different sectors like administration, climate and power," he further said.
The German envoy in his speech said the book "In Search of Justice: Untold Tales of Domestic Violence Survivors" is the reflection of the situation of those, who are less privileged, oppressed and still living in hard times.
Noted actress and co-chairperson of Asiatic 3sixty Sara Zaker read out a part from the book, while GIZ Bangladesh official Promita Sen Gupta, BRAC Institute of Governance and Development Executive Director Dr Imran Motin addressed the function, among others. Law and Justice Division Secretary Md Golam Sarwer was present at the function, .