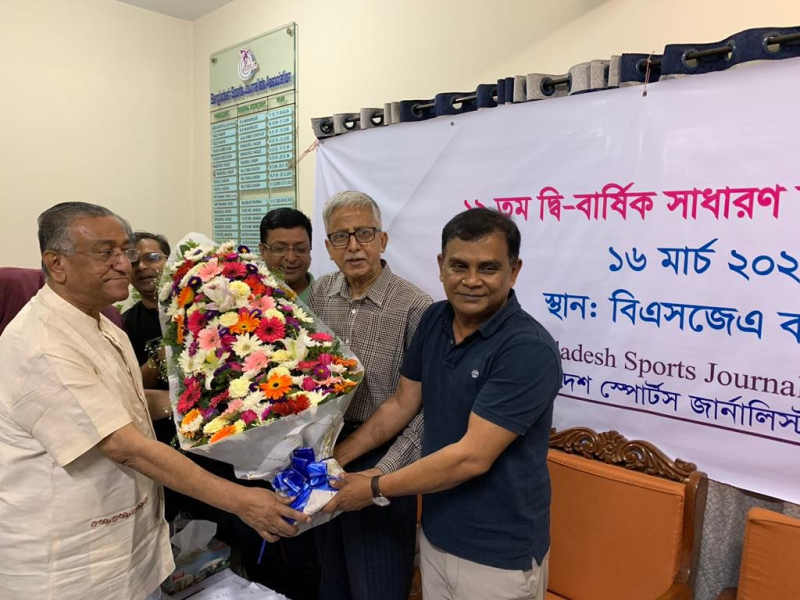 ATM Sayeduzzaman of Kaler Kantha and Anisur Rahman Paltu of The Daily Star have been re-elected the president and general secretary (GS) of the Bangladesh Sports Journalists Association (BSJA).

Chief election commissioner and former BSJA president Monjurul Haque announced the new committee for two years ( 2023-24) after the 19th biennial general meeting of the association held at the BSJA office premises at Bangabandhu National Stadium in the capital Thursday.
The other office bearers and executive committee (EC) members of the new committee are – Vice President Syed Saidur Rahman Shamim (Channel i), Raihan Al Mugni (Global Sports.com) and Borshan Kabir (NTV), Joint Secretary SM Sumon (Boishakhi TV), Finance Secretary Minhajuddin Khan (Dhaka Tribune).
Mazhar Uddin Omi (The Daily Star), Ahmed Rakib (T-Sports), Manjur Morshed (Jamuna TV), Jyotirmoy Mondal (Dainik Jugantor), Robiul Islam (Bangla Tribune) and Yeasin Hasan (Rising BD) are EC members, reports UNB.