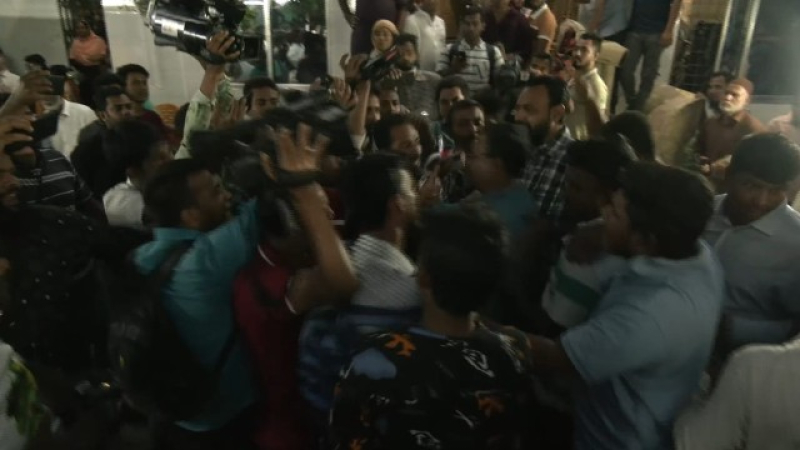 Journos detained for snapping AL-BCL clash in Barisal. UNB

Barishal, May 17 - At least 30 journalists were confined after they took photos of a clash that broke out between Awami League and ChhatraLeague men in Barishal on Wednesday.

Later, they were freed following interventions by senior leaders.
The melee broke out between two factions of Awami League and Bangladesh Chhatra League (BCL) after a meeting of public representatives of Sadar upazila with Awami League candidate Abul Khair Abdullah Khokon Serniabat regarding Barishal City Corporation election on Wednesday night.
The incident happened at the residence of Jubo League joint convener Mahmudul Haque Khan Mamun.
According to eyewitnesses, followers of Khokon Serniabat, Awami League leader Shahidul Islam and District Chhatra League vice-president Zobayer Abdullah Jinnah got involved in a dispute over the distribution of packets and giving speeches after the opinion exchange meeting of the AL-backed mayoral candidate. Then there was a scuffle between the two groups.
The 30 journalists were confined by supporters of Shahidul and Jinnah, when they went there to take photos of the clash. Later, the situation calmed down with the intervention of senior leaders, said the eyewitnesses.
Azim Sharif, cameraperson of Asian Television, said, "BCL men hit our cameras when we went to film the scuffle. We also had a fight over this. At one point, about 30-35 of my colleagues, including I, were locked in a room. Later, senior leaders of Awami League came and freed us."
These two groups have done such things to embarrass the candidate of the boat, said AL leaders.
Jubair Abdullah Jinnah, vice-president of the district Chhatra League, said, "The conversation was over trivial issues and nothing else."
Mahmudul Haque Khan Mamun, joint convener of The Metropolitan Jubo League, said there was a problem over trivial issues. The matter was later settled. - UNB