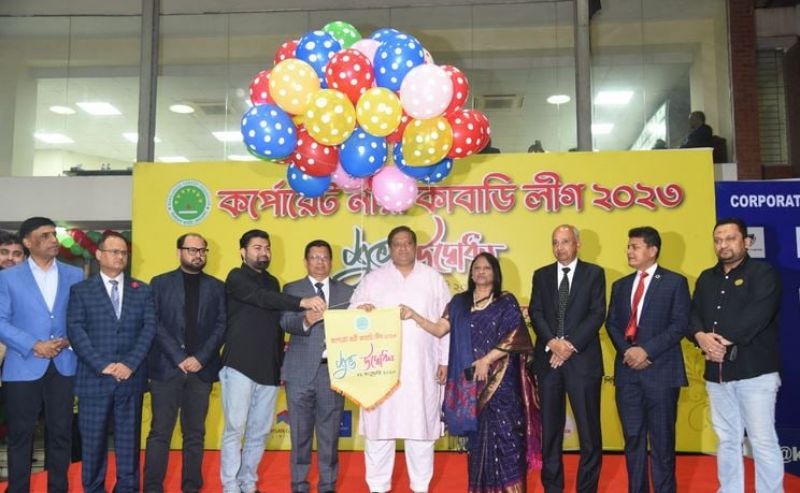 Dhaka, 22 Jan - The first-ever Corporate Women's Kabaddi League was inaugurated at National Kabaddi Stadium in the city Sunday.
State Minister for Youth and Sports Mohammad Zahid Ahsan Russel, MP, formally inaugurated the league as the chief guest in the evening, presided over by Bangladesh Kabaddi Federation's (BKF) president and Inspector General of Police Chowdhury Abdullah Al-Mamun.

BKF's general secretary and additional inspector general of police Habibur Rahman and National Press Club's president Farida Yasmin were present there as special guests.

BKF's joint secretary and the vice chairman of Corporate Women's Kabaddi League Gazi Md. Mozammel Haque, member secretary Arif Mihir and other officials of the federation were also present at the opening ceremony.

On the first day, Dhaka Twelve beat Matlab Thunder by 35-20 points in the first match.

Six teams, sponsored by six commercial organizations, are participating in the double league format of the league, organized by BKF.

Bengal Group sponsored Bengal Warriors, Ahsan Group sponsored Motlob Thunder, Eco Fresh Int'l Limited sponsored Narshingdi Legends, Bridge Pharma sponsored Dhaka Twelve and Techno Media sponsored Techno Media and Narayanganj Gladiators.

Six players who appeared in the national team last have been named icon players based on their performance. Motlob Thunder's icon is Sharmin Sultana Rima, Bengal Warriors' icon Hafiza Akter, Narayanganj Gladiators's icon Disha Moni Sarkar, Dhaka Twelve's icon Rekha Akter, Narsingdi Legends' icon Rubali Akter and Techno Media's icon Smrity Akter.