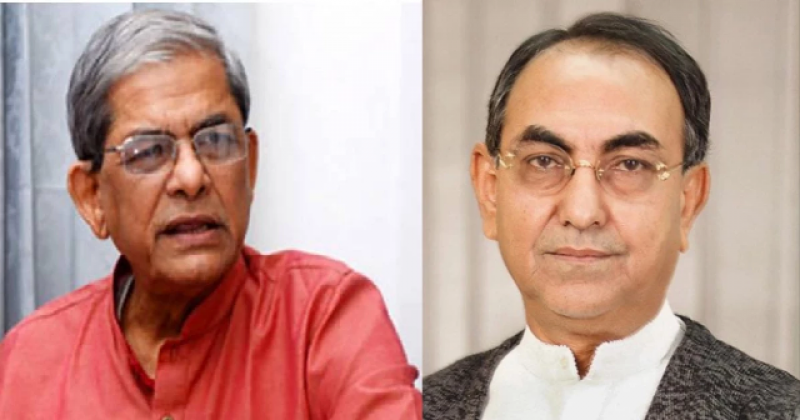 Mirza Fakhrul Islam Alamgir and Mirza Abbas

Dhaka, Dec 9 —A Dhaka court on Friday sent BNP Secretary General Mirza Fakhrul Islam Alamgir and Standing Committee Member Mirza Abbas to jail in a case filed over the clash between police and party activists in the capital's Nayapaltan on Wednesday.

Judge Mohammad Jashim of Dhaka Chief Metropolitan Magistrate Court passed the order on Friday.
During the proceedings, a group of lawyers including Masud Ahmed Talukder and Omar Faruk Faruki stood for Fakhrul and Abbas, while Public Prosecutor Abdullah Abu represented the State.
Earlier, Inspector of Detective Branch (DB) of Dhaka Metropolitan Police (DMP) Tariqul Islam presented the two political leaders at the court and requested for sending them behind bars.
Masud and Omar opposed the prayer, while Abu supported it.
After hearing arguments from both sides, the judge rejected the bail plea by defence lawyers and sent the duo to jail, pending further legal procedures.
Fakhrul and Abbas were shown arrested in a case filed with Paltan police station over Wednesday's clash that left one dead and 50 others injured. Both of them were picked up by detectives during the early hours on Friday in separate raids in Dhaka.
"They have been arrested in the case filed under the Explosive Substance Act at Paltan police station on Thursday after questioning," said Harun Or Rashid, Chief of Detective Branch of Dhaka Metropolitan Police, at a press briefing in the capital on Friday.
They face charges of instigating, planning and directing an attack on police, crude bomb explosion and destroying public property and lives, he added. - UNB