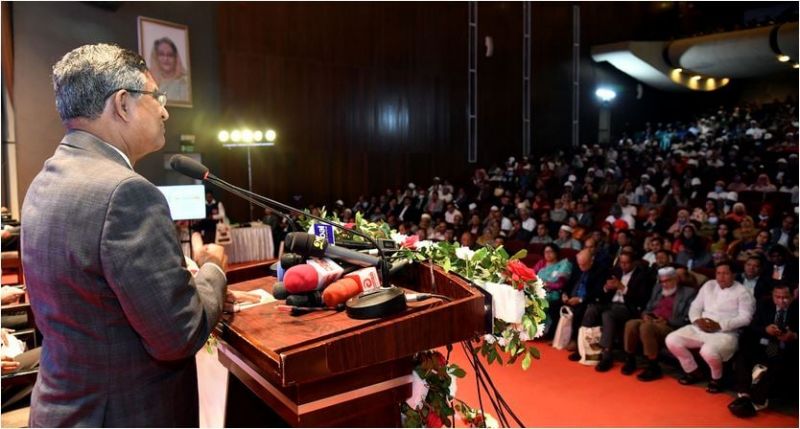 Agriculture Minister and Awami League Presidium Member Dr Muhammad Abdur Razzaque today said it will never be possible to oust the government in unconstitutional way by any means.

"BNP cannot oust the elected government by giving threat or waging movement. Government changeover can be possible through elections," he said.
Razzaque added: "Next elections will be held in a fair and neutral manner. The government will extend all-out cooperation to the Election Commission in this regard. So, BNP will have to take part in the polls or wait until polls if they want government changeover."
The minister was addressing a discussion marking the World Soil Day at KIB auditorium at Khamarbari here.
The Ministry of Agriculture arranged the discussion with the association of Soil Resource Development Institute and Food and Agriculture Organization (FAO).
He said BNP cannot do anything by holding rally on December 10. If BNP resorts to any types of chaos, they will be wiped out as like as Hefazat was removed from Motijheel area.
The country's stability will be kept at any cost, he mentioned.
Razzaque said as BNP fears that their rally will witness less gathering of people, they now want to hold it at Naya Paltan.
Turning to the context of soil day, he urged the scientists to play stronger role for the sustainable management of soil as soil and water are the main resources of the country.
Land Secretary Md Mostafizur Rahman, Department of Agricultural Extension Director General Md. Benojir Alam, Soil Resource Development Institute Director General Md. Kamaruzzaman and FAO Country Representative Robert D. Simpson addressed the discussion among others.
Additional Agriculture Secretary Md Ruhul Amin Talukder chaired it while Bangladesh Agricultural Research Council Executive Chairman Sheikh Md Bakhtiar presented the keynote paper.
Later, the minister unveiled the cover of a book titled "Land Degradation in Bangladesh" and handed over Soil Care Award World Soil Day Award to winners.
Educationist Professor SM Imamul Haque, soil scientist MA Sattar and farmer Golam Rabbani were given Soil Care Award this year.
Soil Resource Development Institute scientist Sabbir Hossain and upazila agriculture officer Adnan Babu and deputy assistant agriculture officer Karuna Mondal received World Soil Day Award, reports BSS.