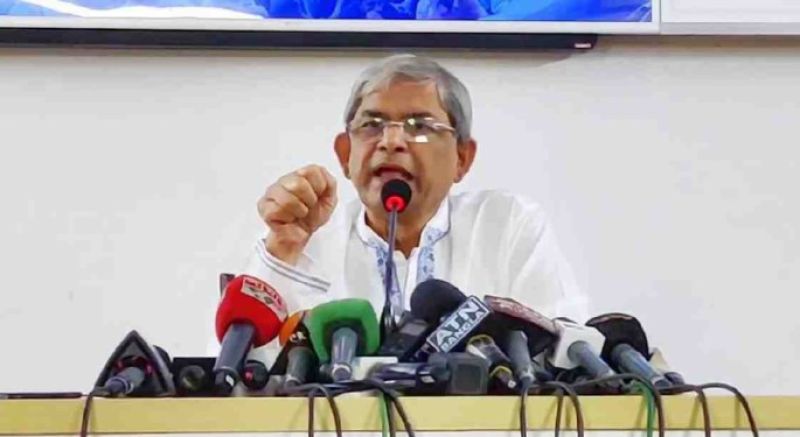 BNP Secretary General Mirza Fakhrul Islam Alamgir on Tuesday alleged that Awami League is trying to harm democracy and destroy the country's stability by announcing counter-political programmes.

Speaking at a press conference at the BNP chairperson's Gulshan office, he also called upon the ruling party to withdraw their counter programme on February 11, the day BNP leaders and workers will march in all unions across the country to press home their 10-point demand, including holding the next polls under a non-party government.
"Awami League is giving counter programmes to our every peaceful programme. They again announced a counter programme at the union level. The main character of Awami League is being exposed with such efforts. Awami League is a party of terrorism," the BNP leader said.
He also said Awami League is 'very good at' inciting violence and terror activities, intimidation, attacks and assaults on its opponents.
Fakhrul said the ruling party is announcing the counter programmes also with a motive to foil the peaceful programmes of the opposition.
"With these counter programmes they are damaging democracy, and they're trying to destroy the stability of Bangladesh and pushing the country towards uncertainty. I call upon the Awami League to withdraw their union-level programme (on January 11)," he said.
Earlier on February 4 last, BNP and its like-minded parties and alliances announced a march programme in all unions across the country for February 11 (Saturday) to mount pressure on the government to accept their 10-point demand.
Stating that holding peaceful programmes are a constitutional right of political parties, Fakhrul said Awami League is trying to push BNP's peaceful programmes towards conflict by instigating and threatening in various ways from the beginning. "We are very consciously avoiding that conflict."
He said the ruling party's counter programme is a new phenomenon in Bangladesh's politics. "It means they're now doing these things out of fear to protect themselves and stay in power again."
The BNP leader reiterated that they will continue their programmes in a completely peaceful manner avoiding conflict. "Our ultimate goal is to force this illegitimate government to step down, dissolve parliament and hold the election with the supervision of a new Election Commission under a non-partisan caretaker government."
Asked whether they may announce tough programmes like hartal and blockade to intensify their movement, Fakhrul said, "So far there is no such plan. I can't say whether it will come in the future as the necessity and people will determine it."
He said they think peaceful programmes are enough to force the current regime to quit. "Through this movement, you will see that one day the public opinion will come to such a level that there will be no need to call hartal as they (govt) will step down facing the peaceful movements."
Later, the BNP leader Alamgir announced that their party leaders and activists will again march in the capital on February 9 and 12 to press home the 10-point demand.
"As part of our ongoing movement for the restoration of democracy, unconditional release of our leader Khaleda Zia, the resignation of the government, dissolution of parliament and realising the 10-point demand, BNP Dhaka South and North city units have decided to march again," he said.
Fakhrul said BNP's Dhaka South City unit will march towards the Jatiya Press Club from Gopibagh Brothers Union Club Ground at 2pm on February 9 while its Dhaka North City unit will march towards Bosila Saat Rasta intersection from Shyamoli Club Ground at 2pm on February 12.
Earlier, leaders and activists of the party's Dhaka north and south city units observed the march programme on January 28, 31, 30 and February 1 respectively to push for their 10-point demand.
Later on February 4, BNP announced another march programme in all unions across the country on February 11 (Saturday) to mount pressure on the government to accept their demands, reports UNB.