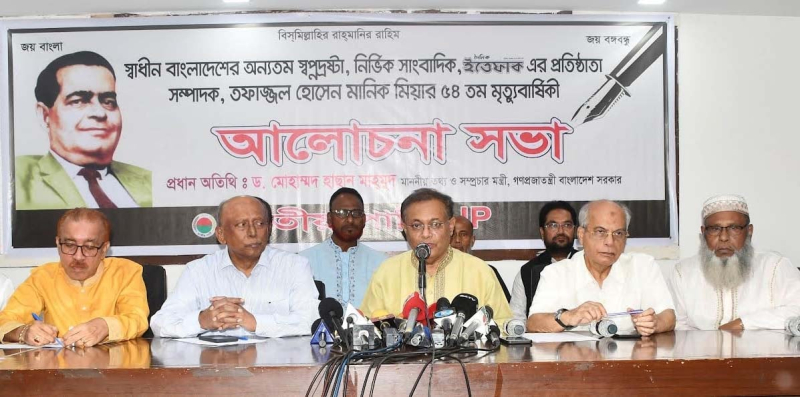 Information and Broadcasting Minister and Awami League Joint General Secretary Dr Hasan Mahmud today said the country would not be handed over to the anti-state evil forces and urged all pro-liberation political forces to forge unity.

"Bangabandhu was killed when the country was moving ahead under his dynamic leadership by the defeated forces of the Liberation War and reactionary evil forces from and abroad. And now, the anti-liberation forces are hatching conspiracy along with militants when the country is marching ahead indomitably under the supervision of Bangabandhu's daughter Prime Minister Sheikh Hasina," he said.
"All pro-liberation political forces must be united against the evil forces," he told a memorial discussion at Jatiya Press Club (JPC) here.
Jatiya Party (JP) organized the meeting marking the 54th death anniversary of legendary journalists and the daily Ittefaq founder editor Tofazzal Hossain Manik Miah with its secretary general and Freedom Fighter Sheikh Shahidul Islam in the chair.
JP presidium member Sadeq Siddique, DBC TV chairman Iqbal Sobhan Chowdhury, Dhaka University former vice-chancellor and chairman of the board of directors of the national news agency Bangladesh Sangbad Sangstha (BSS) Professor Dr AAMS Arefin Siddique and JPC general secretary Shyamol Datta, among others, addressed the discussion.
Hasan said every pro-liberation political force must be united to defeat the anti-state and international evil forces who want the country backward. "If we can do that, then it will be possible to reach the country in the path of prosperity, the destination dreamt by Bangabandhu," he added.
Over the proposed budget for the 2023-2024 fiscal which was placed just today at the House, the minister said the budget is nine times higher than the budget of 2009. The size of GDP was about 100 billion dollars in 2009 while the size is now about more than one trillion dollars which is 10 times more, he added.
He said some organizations of the country will issue as usual statements like previous 14 years and they will say that this budget is highly ambitious, not possible to implement and it would not bring welfare to the people. "But, the reality is that we have implemented all budgets in the last 14 years and the rate of implementation is 97 percent. Even, the rate of implementation was about 95 percent during the COVID-19 pandemic, said Hasan.
Paying glowing tribute to Manik Miah, the minister said the then Pakistan government had closed the Ittefaq and Manik Miah was arrested. The arrest was political, he added.
He said Manik Miah played a pivotal role in the struggle of freedom and he will be a role model for journalists.
Arefin said Bangabandhu was in the field during the movement of independence of the country while Manik Miah penned for it, reports BSS.