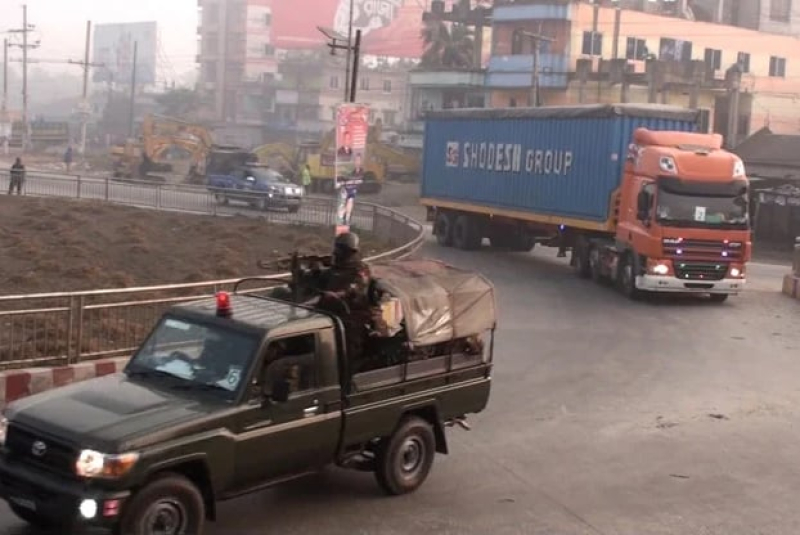 A convoy carrying uranium entered the project area around 7:30am.

 The seventh shipment of uranium for the first unit of the under-construction Rooppur Nuclear Power Project in Pabna arrived in Rooppur, Ishwardi amid tight security Friday.

A convoy carrying uranium entered the project area around 7:30am, said Officer-In-Charge of Pakshy Highway Police Ashish Kumar Sanal told BSS here.
He said uranium loaded carrier transported to the under-construction Rooppur nuclear power plant area through Bonpara, Dashirua from Dhaka safely.
Ashish also mentioned that the highway underwent special security arrangements during the transportation process. To ensure the safety of the convoy, all traffic on the Natore-Kushtia-Pabna highway was temporarily halted from early in the morning to 7:30am. Following the successful delivery of the uranium to the Rooppur nuclear project, normal traffic flow resumed on the affected route.
Earlier, the first shipment of Rooppur nuclear power project fuel arrived in Bangladesh on September 28. The next day, on September 29, fuel was taken to the project area under special security measures.
The handover was officially made in the presence of Prime Minister Sheikh Hasina and Russian President Vladimir Putin in a video conference on October 5. Through this, Bangladesh entered the nuclear club.
The RNPP project aims to establish a 2,400MW nuclear power plant with two 1,200MW capacity units. The first unit's reactor was loaded in October 2021, while the second unit's reactor was installed in October 2022.