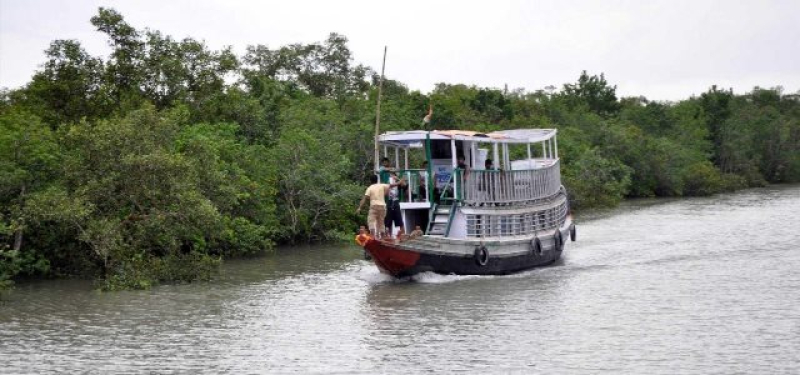 A tourist boat plying in the Sunderbans

Sundarbans, world's largest mangrove forest, is abuzz with footsteps of a large number of tourists – both local and foreign – due its scenic beauty and diverse wildlife.

After three months of closure, Sundarbans opened to tourists on September 1.
The mangrove forest was off-limits to tourists from June 1 to August 31 by the Forest Department to ensure the breeding of 375 species of wild animals and 291 species of fish, including the Bengal tiger and deer. According to the Forest Department, at present, 114 Royal Bengal tigers, 375 species of wildlife including 200,000 deer, 334 species of plants including Sundari, 165 species of algae, 13 species of orchids, and 300 species of birds call the Sundarbans home.
Kazi Muhammad Nurul Karim, forest officer of Sundarbans East zone, said a total of 4,908 local and 72 foreign tourists have visited the Sundarbans since it reopened till September 26.
Last year, the number of local tourists was 2,332 and foreign tourists were seven in the 26 days of September.
Md Saiful Islam, director of Sundari Eco Resort, said an eco village has been set up in Dhangmari, and they are working on developing community-based tourism.
"We have provided employment to hundreds of locals, and the local stakeholders are also being benefited through this," he said.
"This month, we have provided services to 34 tourists from China, Germany, Japan, Poland and India and the visitors felt delighted to visit the village, wearing local attire," he added.
Abu Foysal Mohammad Sayem Babu, director of Holidays Tours and Travels, said, "The Sundarbans has become the biggest attraction for foreign travellers, and keeping that in mind we are providing services to tourists through modern and luxurious cruise ships."
He also claimed that the number of tourists in the Sundarbans will see further increase if the government lowers the travel fee for foreign travellers.
A Japanese tourist, currently in the Sundarbans, said, "After hearing the story of the Sundarbans, I came here, at the Sundari Eco Resort. I did not expect to see such a charming village."
Azad Kabir, in-charge of Karamjal Tourist and Wild Animal Breeding Center, said that hundreds of tourists have visited the main attractions in the Sundarbans, and were overwhelmed by the scenic beauty.-UNB