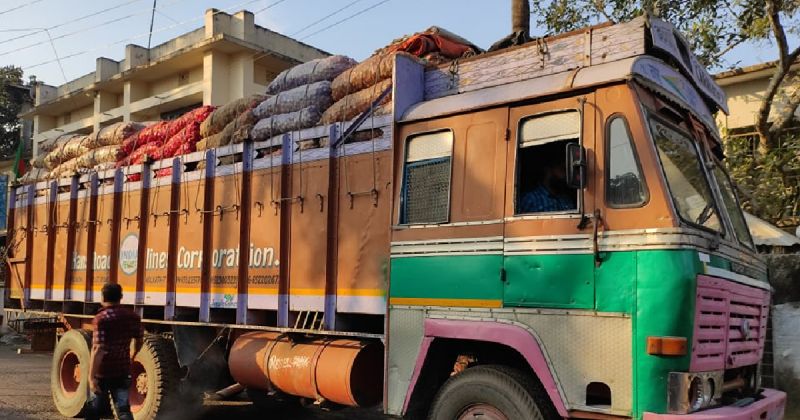 Truck carrying onion reach Hili station.

Dhaka, Nov 8 - Leaders of freight transport owners-workers association postponed their strike after a meeting with Home Minister Asaduzzaman Khan Kamal at the secretariat on Monday night.

Coordinator of Bangladesh Truck, Covered Van, Tank Lorry, Prime Mover Owners and Workers Coordination Council Hossain Ahmed Majumder said that they have agreed to postpone the strike after the home minister's assurances to meet their demands
The meeting at the secretariat started at 8 pm in the evening.
In accordance to the three-point demand of the association, the government has agreed to increase the transportation fare in proportion to the increase in diesel price. 
The association's demand to cut increased toll on two bridges has also been agreed with. 
The third point in their charter of demands was an end to multiple points of taxation, that they describe as 'extortion money, for the vehicles carrying freight at the entry points of the city corporation areas and the municipalities. This demand has also apparently been met at the meeting.
The Minister said, "We think their demand is a logical one and that's why we are recommending all the stakeholders including BGMEA, BKMEA, and FBCCI, who are receiving the services to logically increase the fare for transporting goods in discussion with the leaders of the association. 
Today's discussion has been fruitful, he said, adding that the leaders (owners-workers) have agreed to withdraw the strike, he added.
Earlier on Friday, the association enforced the strike and kept freight transports suspended till today, demanding complete withdrawal of the Tk 15 increase in the price of diesel and kerosene. - UNB