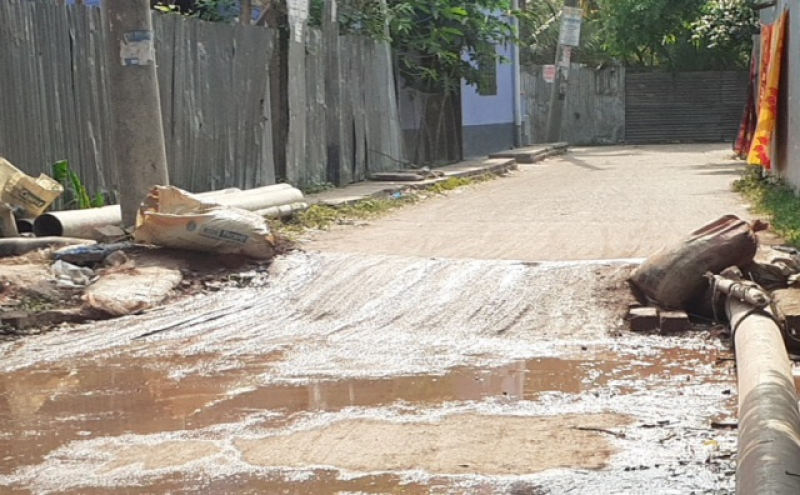 Sand business obstructing road in Kalapara.

Patuakhali: On the roads of Kalapara municipality town under the district, the traffic woes are unending, along with normal movement of pedestrians. This condition has been created due to the supply of sand by laying pipes on the road. Locals claim that Kala Miraj is doing sand business by blocking the roads by laying pipes inside the municipality by managing the mayor,

councilors. Therefore, the citizens are not getting any remedy despite complaining to the concerned ward councillor, mayor. However, the secretary of the municipality says that there is no opportunity to block the road and trade sand without the permission of the municipality. Action will be taken if a written complaint is received in this regard.
According to sources, such conditions are endless in the AC Land office road, Office mohalla, Rahmatpur area, Samajkalyan-Rahmatpur-Basstand intersection road. Construction has been going on for months, dredger traders have been keeping ships loaded with sand in Undharmanik and Don rivers adjacent to the town and dumping sand on the roads to fill the low places. Even if the supply of sand is stopped for 15 days and 1 month, these large pipes are not being removed from the road to save labor costs. Traffic, pedestrians suffer but they have no headache.
The source also said that bikes, motorbikes, rickshaws, autos, private vehicles and micro vehicles are constantly getting hit by these pipes lying on the road. Sometimes one or two pedestrians get injured after stumbling. Pregnant women, elderly and children are suffering more.
Still no one dared to file a complaint against the sand merchant terrorist Kala Miraj. Jalil, an auto driver of the town, said that he cannot drive an auto properly in the municipality town because of the sand pipe. Passengers are facing problems in getting up and down the car over the pipe. How much do we have to deal with this problem?, no one wants to open their mouths for fear of Kala Miraj.
Kala Miraj, a sand trader, said, "If the ship arrives, another ship will drop sand and the pipe will be removed within 10-12 days."
Kalapara Municipal Executive Officer Md. Humayun Kabir said, "No one has complained about this. If there is a complaint, the matter will be looked into and action will be taken." - Gofran Biswas Palash