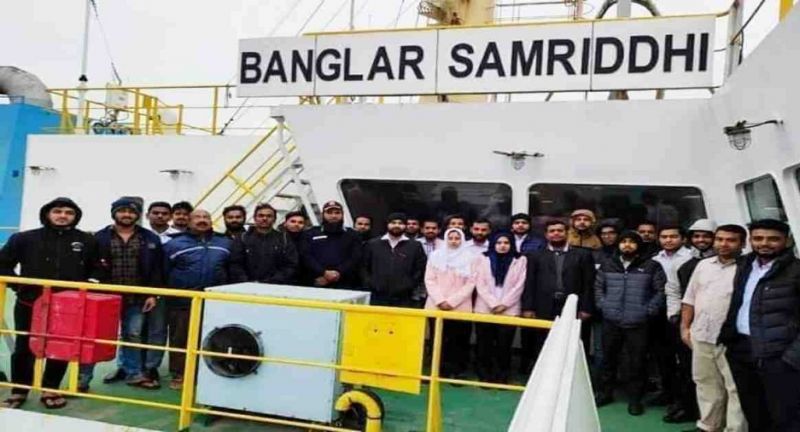 The surviving sailors of the Bangladeshi ship "Banglar Samriddhi" returned to the country from Rumania this afternoon.
 The ship, stranded at a port in war-torn Ukraine, came under a missile attack on March 2 last, leaving one Bangladeshi sailor dead.
 Hazrat Shahjalal International Airport (HSIA) executive director group captain AHM Touhid-ul Ahsan said a Turkish flight departing Romania's capital Bucharest with 28 sailors landed at HSIA here at around 12:01 pm.
 Later, the seafarers left the airport through the VIP gate, airport sources said.
 About the further whereabouts of the sailors, Touhid-ul Ahsan could not say anything.
 "Bangladesh Merchant Marine Officers' Association and Bangladesh Shipping Corporation may know about their location," he said.
 The airport sources added that the body of the slain Bangladeshi sailor Md Hadisur Rahman, who was killed in that missile attack in the Ukrainian port, has been kept in Ukraine.
 The body will be brought back to the country at a convenient time, the sources added.
 After the missile attack, the crew members left Ukrain on March 5 and finally, they managed to reach the Romanian capital Bucharest on March 6 through Moldova.
 The safely returned crew members are: GM Nur E Alam, Md Mansurul Amin Khan, Selim Mia, Rama Krishna Biswas, Md Ruknuzzaman Rajib, Fariatul Jannat Tuli,
Faisal Ahmed Setu, Mohammad Omar Farooq, Syed Asiful Islam, Rabiul Awal, Salman Sarwar Sami, Farzana Islam Mou, Md Sheikh Saadi, Md Masudur Rahman, Md Jamal Hossain, Mohammad Hanif, Md Aminur Islam, Md Mohin Uddin, Hussain Mohammad Rakib, Sajjad Ibne Alam, Nazmul Uddin, Md Nazrul Islam, Sarwar Hossain, Md Masum Billah, Mohammad Hossain, Md Shafiqur Rahman, Md Atiqur Rahman and Mohammad Saif Uddin.28 crews of 'Banglar Samriddhi' return home, reports BSS.