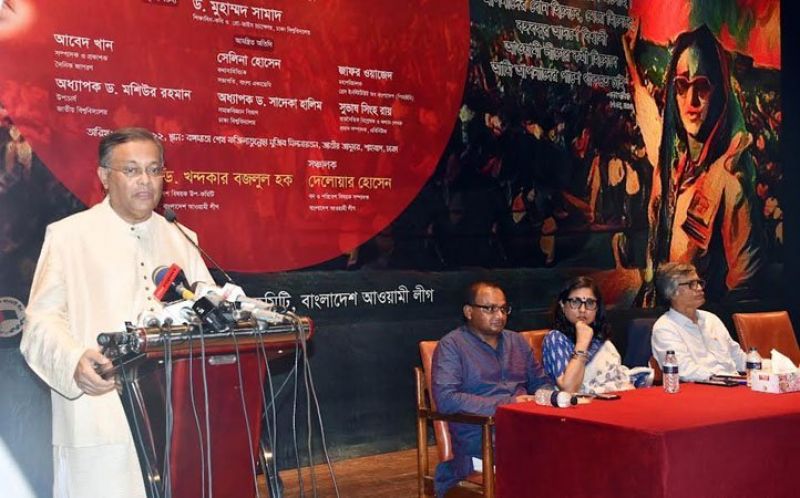 Information and Broadcasting Minister Dr Hasan Mahmud today said BNP should not talk about money laundering as its acting chairman and his younger brother have already been convicted for money laundering.
"Talking about money laundering doesn't suit BNP as its acting chairman remains fugitive while their party's chairperson has whitened black money," the minister said.
"The country became champion in corruption for five consecutive times during their (BNP) tenure and BNP's acting chairman and his younger brother were convicted for money laundering. Even, the FBI testified against BNP's party chairman on money laundering.
The laundering money of his brother was uncovered in Singapore and the money was brought back to the country," he said.
"They (BNP) are nothing but 'world thieves' for their corruptions. With due respect, I would like to tell BNP secretary general Mirza Fakhrul Islam Alamgir that he is the spokesperson of those 'world thieves' though it is unendurable truth," Hasan said while addressing a discussion marking the historical Homecoming Day of Awami League President and Prime Minister Sheikh Hasina.
Awami League's Forest and Environment Sub-Committee organised the discussion at the Bangamata Sheikh Fazilatunnesa Mujib auditorium of National Museum at Shahbagh here.
The minister said the government has uncovered the money laundering incidents and the money launderers are being brought to book. One of the money launders PK Halder has arrested recently, he added.
He said, "We know about other money launderers along with BNP's acting chairman and his brother ....we are finding out them. You (countrymen) will be able to know their names gradually.
Prime Minister Sheikh Hasina will continue her stringent actions against them."
Over the comparison of Bangladesh with Sri Lanka, he said, "There is no use of posing Sri Lanka's example to Bangladesh. It is unnecessary to compare Sri Lanka with Bangladesh, which has already constructed Padma Bridge with its own fund and given $200 million loan to Colombo," said Hasan, also Awami League joint general secretary.
He said BNP leaders and activists are locked into clash each other while holding rallies across the country in the name of movement. "We are not in the field till now. But, we will be on the field if any anarchy situation is created," he added.
With the return of Awami League President Sheikh Hasina to the country on May 17, 1981 after a long exile, the democracy and the spirit of the liberation war returned to the country.
"The homecoming of Sheikh Hasina was not only the individual return of Bangabandhu's daughter, but also the return of democracy and the spirit of the liberation," he added.
"She will always remain beside the countrymen," Hasan added.
National University Vice-Chancellor Professor Dr Mashiur Rahman, Dhaka University (DU) Pro Vice Chancellor Dr Abdus Samad, DU Social Science Department Professor Dr Sadeka Halim, Press Institute of Bangladesh director general Zafar Wazed and eminent columnist Subhash Sing Roy, among others,
addressed the discussion with the sub-committee chairman Professor Dr Khandakar Bazlul Haque in the chair.
AL Forest and Environment secretary Delowar Hossain conducted the discussion, reports BSS.