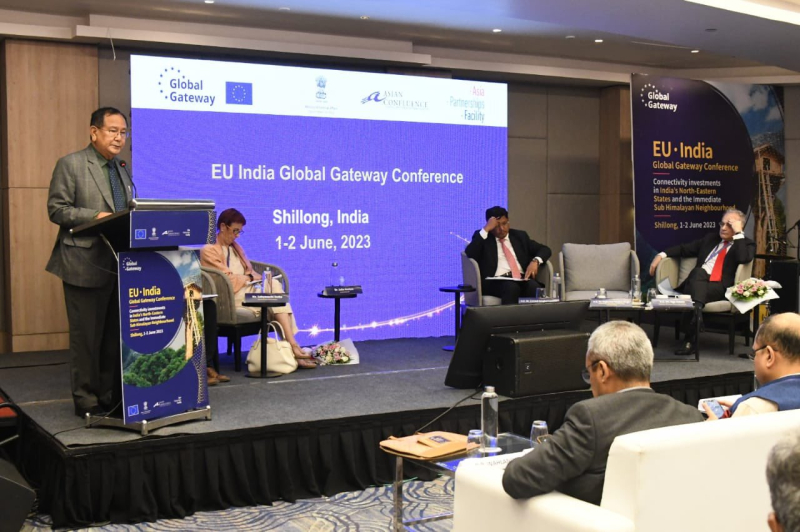 Photo taken from Meghalaya Chief Minister Conrad K Sangmas official twitter account.

Dhaka, June 8 – India and the European Union (EU) are exploring connectivity investments and identifying concrete projects in India's northeastern states and Bangladesh, Nepal, Bhutan for implementation.

India's Ministry of External Affairs, the EU Delegation to India, and the Asian Confluence jointly organized the India–EU Connectivity Conference in Meghalaya recently.
The objective of the conference was to explore connectivity investments and identify concrete projects in India's northeastern states and with the country's neighbours under the India-EU Connectivity Partnership, which was launched during the India–EU leaders' meet in May 2021.
The conference, held earlier this month, was inaugurated by Conrad Kongkal Sangma, chief minister of Meghalaya, and Dr Rajkumar Ranjan Singh, minister of state for external affairs.
Dr Singh stressed the importance placed by the Government of India on connectivity initiatives, both within the country, and as part of India's development partnership abroad.
He further highlighted the tremendous opportunities for India–EU Triangular Development Cooperation in South Asia and the Indo–Pacific, according to the Indian Ministry of External Affairs.
The CM of Meghalaya emphasized the importance of interstate and cross border connectivity for the northeast region as a whole, and for Meghalaya in particular.
He referred to India's 'Act East' Policy, within which Meghalaya has an 'Act South' Policy focussing on the need to improve connectivity between Meghalaya and Bangladesh.
He suggested a 'zonal approach' to connectivity, involving neighbouring states that caters to the needs of each state.
The second day of the conference saw technical sessions on the themes – digital connectivity, energy connectivity, and transport connectivity – focusing on projects linking the northeast with India's neighbourhood, as part of the 'Act East' and 'Neighbourhood First' policies.
The sessions saw participation from senior officials of the government of India, the EU Commission, governments of the northeastern states of India, North Eastern Council, stakeholders from Nepal, Bangladesh and executives from the private sector with presence in the region.
Deliberations in the panel on 'Connectivity & Beyond' focused on the hurdles and bottlenecks faced by these projects, and on ways to ameliorate their impacts.
The panel on 'Digital Connectivity' focused on improving the network penetration in the region by deploying infrastructure, and simultaneously building capacity of the various stakeholders to ensure meaningful connectivity.
Developing localized off–grid solutions through community participation was stressed as the way forward to promote 'Energy Connectivity' in the region.
Experts deliberating on 'Transport Connectivity' appreciated the several ongoing transformative infrastructure developments in road, rail and waterway connections in the region, but suggested there was need for more. Deliberations also focussed on identifying the right projects to source external funding.
A study on the existing EU Member States driven projects would be brought out by the Centre for European Policy Studies (CEPS).
The first-ever India-EU Trade and Technology Council Ministerial meeting held in Brussels on 16 May 2023 had prioritised Connectivity Partnership as one of the important focus areas of cooperation between India and the EU. - UNB