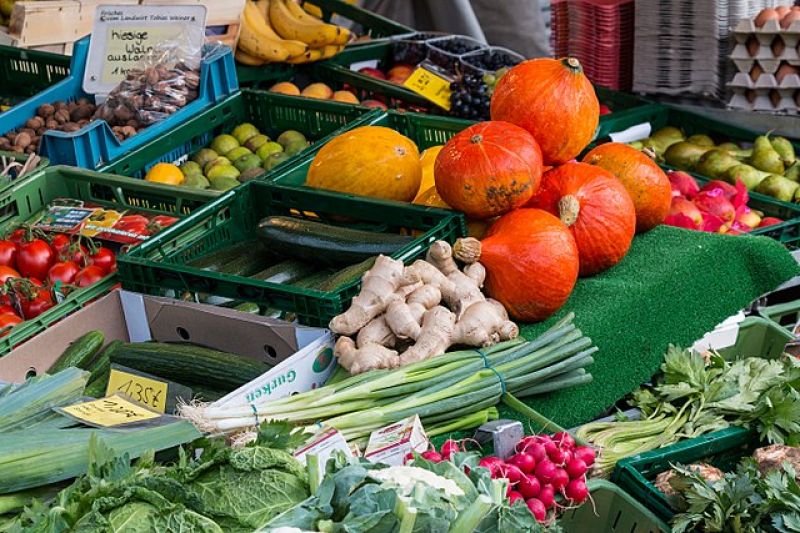 Food. Dietmar Rabich. Creative Commons.

Geneva, 18 Jun (Kanaga Raja) – The world food import bill is forecast to reach a record USD 1.715 trillion in 2021, a rise of 12 percent from the previous year, according to the UN Food and Agriculture Organization (FAO).

In its latest biannual report on global food markets, FAO said that the economic impacts of COVID-19 are not expected to hinder global demand for foodstuffs in 2021, nor did the pandemic curtail growth in the food import bill in 2020, the level of which stood as the previous record.
The year-on-year expansion of the bill in 2020 was mainly on account of a steadfast increase in imported volumes, especially those of staples, it added.
For 2021, FAO said volumes are anticipated to remain robust, and increased unit costs (international quotations and freight rates) are set to underpin overall growth in the world food import bill compared with last year.
It added that the sustained demand for imported foodstuffs during the pandemic years also masks supply chain disruptions within countries that turned, and continue to turn, to the international marketplace to fulfil domestic requirements.
For instance, when supply chains in the European Union for citrus were disrupted at the beginning of the pandemic, Egypt was able to fill the supply gap and make major inroads into the EU market.
Likewise, Kenya managed to step up exports of vegetables to the EU, when problems occurred due to COVID-19- related labour shortages in the vegetable sector.
FAO said the COVID-19 pandemic has exerted a pronounced income shock on the global economy, with negative growth rates experienced across all regions, albeit at different depths of decline and expected speeds and shapes of recovery.
"These income swings have left characteristic imprints on import demand across different food groups," it added.
FAO said that the realized and foreseen changes in food import bills mainly reflect the diverging responsiveness of import demand to changes in income.
FAO said that against the backdrop of much higher international quotations predicted for 2021, as well as a strong upturn in world gross domestic product (GDP) growth, virtually all product bills are expected to increase in 2021.
The largest absolute increases in the year are those foreseen for cereals (USD 37 billion), followed by vegetable oils (USD 33 billion), oilseeds (USD 31 billion) and fruits and vegetables (USD 24 billion).
Combined, they would account for almost USD 126 billion of the USD 185 billion foreseen rise in the global bill in 2021 from last year.
Again in 2020, these product groups dominated the dollar increase in the world bill of USD 48 billion from 2019, and were also supported by a substantial increase in international purchases of oilseeds, said FAO.
Such developments were to be expected, given the low-income responsiveness of staple foodstuffs, it added.
On the other hand, FAO said that purchases of fish products as well as beverages, which are typically sensitive to income changes, fell a collective USD 20 billion compared with 2019.
"On a percentage basis, vegetable oils, cereals and oilseeds are noteworthy food groups that are set to be the most vibrant in terms of growth in 2021," said FAO.
With few exceptions over all food categories, developed regions, which dominate global food inflows, are expected to import less food in 2021 at a greater cost than in 2020, such that prices (and freight costs) are expected to fuel a net increase in the food import bill to the tune of USD 58 billion in 2021, it added.
In contrast, and in spite of higher global quotations, developing countries are anticipated to purchase more food in all categories.
Rising demand for cereals, vegetable oils, oilseeds, and fruits and vegetables are by far the greatest drivers of the predicted increase in the food import bill of developing regions in 2021, with volumes accounting for almost 60 percent of the USD 127 billion increase, said FAO.
"Such demand by developing regions is expected to underpin the overall increase in the global food bill in 2021."
According to the FAO, likewise in 2020, the growth in demand for imported foodstuffs by developing countries contributed an overwhelming 80 percent of the annual rise in the world food import bill.
Only a decline in purchases of fish products and beverages and a stagnation of coffee, tea, cocoa and spice inflows were registered in 2020, said FAO.
FAO said that growth in the food import bill in the developed regions was again dominated by price effects, with across-the-board declines in volumes.
IMPACT ON VULNERABLE COUNTRIES
According to FAO, food import bills of economically disadvantaged groups of countries, such as Least Developed Countries (LDCs), Low-Income Food-Deficit Countries (LIFDCs) and countries situated in sub-Saharan Africa (SSA) are expected to rise in 2021 by varying degrees.
It said the food import bills of LDCs are forecast to increase by 4 percent, while those of SSA and LIFDCs could increase by 11 and 20 percent, in tandem with the global increase.
However, growth in these aggregate bills is dominated by increases in the unit costs of importing food, it added.
Worryingly, said FAO, LDCs are foreseen to purchase barely the same total volumes of food but at a higher cost in 2021.
FAO said bills of cereals constitute one of the few product groups in which economically disadvantaged countries could benefit from greater import volumes at a lower unit cost.
Purchases of vegetable oils – commodities that habitually rank second in terms of import dependency – are expected to decline considerably in volume terms for LDCs and SSA.
According to FAO, a cursory examination of trends in GDP and food import bills finds that bills have stagnated for LIFDCs and SSA during 2020.
This is expected to explain lower demand by these country groups for livestock and sugar products, which are sensitive to changes in income, it said.
"A further worrying feature is that to the extent changes in import demand reflect changes in overall demand, the COVID-19 pandemic would have resulted in a shift from high- to low-value food products and most likely to a deterioration in the quality of diets."
FAO said the growth in international purchases of cereals by LDCs, LIFDCs and SSA, at the expense of more nutritionally diverse foodstuffs, bears testimony to this outcome.
"With worsening macroeconomic fundamentals, the fiscal capacity of already vulnerable countries to import is becoming critical," it added.
FAO said that food accounts for a relatively high percentage of GDP in vulnerable countries, averaging around one-third, but per capita food import bills reveal no tendency to correlate with the degree of food expenditure share, implying a high reliance on the ability of domestic production systems to deliver food.
With production shocks, or a lack of resource endowments to produce food, such countries will be exposed to the encumbrances of buying food from the international arena, said FAO.
On the other hand, food expenditure shares in developed countries average about 10 percent, and it can be deduced from the figure that the lower the share, the higher the country's per capita food import bill – or higher dependence on imported food vis-a-vis domestic food systems.
On the issue of affordability, FAO said that numerous net food importers have experienced sharp depreciations of their real exchange rates, undermining their ability to buy food from the international arena.
At the same time, FAO added, some agricultural exporters enjoyed even larger depreciations of their real exchange rates, making their produce more competitive internationally.
In this context, FAO pointed to well-established agricultural exporters from Latin America such as Brazil, Chile or Uruguay.
While these countries also experienced higher inflation rates and therefore higher production costs, the depreciation of their nominal exchange rates exceeded the cost increase and boosted the competitiveness of their exports, it said.
Since international procurement is transacted in major convertible currencies, often the US dollar, sufficient foreign exchange reserves are a necessary prerequisite for countries to participate in trade, FAO emphasized.
"It is seen that for many vulnerable countries, food import bills consume a significant percentage of their foreign exchange earnings, as much as 90 percent of foreign exchange reserves in a particular instance."
Such high shares expose countries to a potential failure to meet the cost of importing other necessities, such as energy and medical products, said FAO.
In many cases, foreign exchange earnings from exports merely cover imported food needs, and in other instances, the cost of imported food far exceeds earnings from merchandise exports.
In normal times, said FAO, countries with a strong revenue stream from exporting services, notably tourism, are able to compensate for low proceeds from exporting merchandise goods.
However, in times of COVID-19, many of these countries have been deprived of revenues from service exports, which puts them at an added risk of depleting their foreign exchange reserves, FAO added.
Among the most exposed countries are the Maldives, Cabo Verde and Sao Tome and Principe. In all the three countries, the food import bill in 2020 exceeded revenues from total merchandise exports, said FAO.