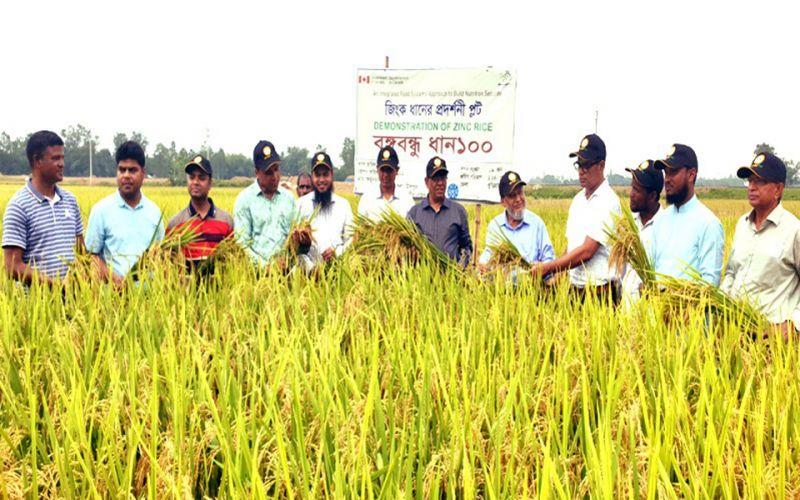 Experts at a farmers' field day program have stressed on expanding cultivation of zinc-enriched Bangabandhu dhan100 rice.

 Experts at a farmers' field day program have stressed on expanding cultivation of zinc-enriched Bangabandhu dhan100 rice and popularising its consumption to improve nutritional status of common people.
 The event was arranged for harvesting the disease tolerant, pest attack resistant and fine variety Bangabandhu dhan100 rice at Arjundara village in Ulipur upazila on Wednesday, said a press release.
 On the occasion, farmer Mizanur Rahman of the village got 6.41 tonnes yield rate of paddy after harvesting Bangabandhu dhan100 rice on his 3.06 acres of exhibition plot.
 With the Department of Agricultural Extension (DAE) assistance, Natun Zibon Rochi (NAZIR) organised the event under Integrated Food System Approach to Build Nutrition Security (IFS) project of HarvestPlus Bangladesh funded by the Government of Canada.
HarvestPlus is part of the Consultative Group on International Agricultural Research Program on Agriculture for Nutrition and Health and is based at International Food Policy Research Institute.
 HarvestPlus is improving nutrition and public health by developing and promoting biofortified food crops rich in vitamins and minerals alongside providing global leadership on biofortification evidence and technology.
 Additional Director of DAE for Rangpur region Md. Emdad Hossain Sheikh attended the program as chief guest with Executive Director of NAZIR, Lalmonirhat Nurul Haque Sarkar in the chair.
 Agriculture Research and Development Officer of HarvestPlus Bangladesh Md. Ruhul Amin Mondol moderated the function.
 Country Manager of HarvestPlus Bangladesh Dr. Md. Khairul Bashar, Deputy Director of DAE, Kurigram Md. Abdur Rashid, Deputy Director (Seed Marketing) of BADC, Rangpur Md. Asaduzzaman Khan and Senior Scientific Officer and Head of BRRI's Rangpur Regional Station Md. Rakibul Hasan attended as special guests.  
 IFS project Coordinator Md. Mozibar Rahman in his welcome speech said zinc is an essential micronutrient for the human body which is required in small amounts but daily.
 "Available sources of zinc are meat, fish, milk and egg which are not easily unaffordable by the poor. Zinc rice could be a sustainable and cost-effective solution to meet daily zinc requirements," he said.
 Rakibul Hasan said Bangladesh is the world's first country that developed zinc rice. Bangabandhu dhan100 rice is popular like the premier Naijarshail rice variety.
 Asaduzzaman Khan said zinc is very important for human health, especially children and women.
 Dr. Khairul Bashar said one in every three people globally suffers from hidden hunger and malnutrition and women and children are especially vulnerable.
 Zinc-enriched rice like other biofortified crops facilitated by HarvestPlus is developed through conventional non-genetically modified organism plant breeding methods.
 "Bio-fortified crops are high yielding that farmers desire," he said, adding that consumption of biofortified zinc rice like Bangabandhu dhan100 increases immunity of the human body.