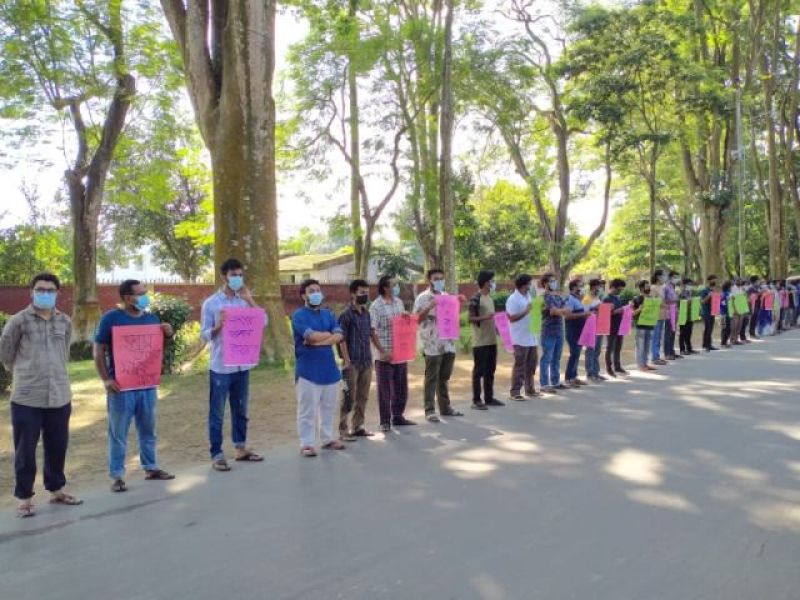 Human chain at Rajshahi University

Rajshahi: Students of the University of Rajshahi have demanded punishment of those who are involved in the vandalism of Puja Mandaps during Durga Puja celebrations in the country.

The demand was made on Saturday at a human chain held at Paris road of the university.
Tamal, a master's student in English department said, we strongly condemn the way in which minority communities have been attacked and vandalized at several places in the country. The history of Bangladesh is a history of communal harmony. The history of the liberation war is the history of unity. We are warning those who want to destroy that harmony and unity.
Ashikur Rahman, a master's student in the same department said, The constitution of our country has given all citizens equal freedom of religion and equal rights for people of different faiths to perform their own rituals. No one was given the right to obstruct any religious ceremony. Our main identity is that we are citizens of this country. It does not matter what religion we belong to. We are all Bengalis. I demand that those who want to harm communal harmony in this country be brought to justice.
More than 50 students of the university were present at the program conducted by Waliul Mohammad Turjo, a fourth-year student of English department. – RU Correspondents