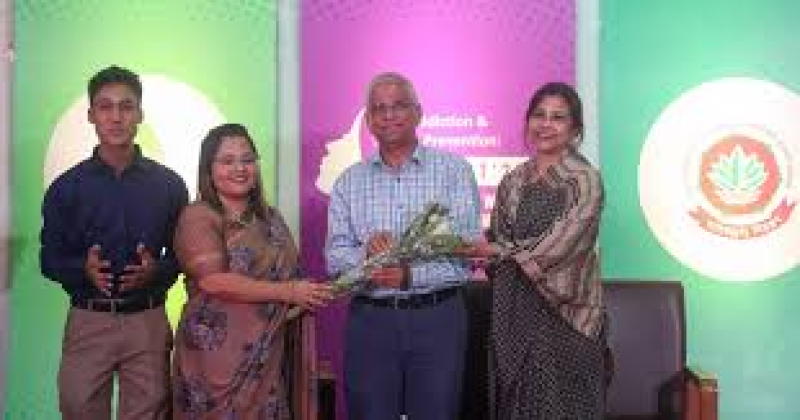 Speakers at a symposium have stressed the need for raising awareness about mental wellbeing of people to prevent drug addiction and suicide.
The symposium titled "Drug Addiction and Suicide Prevention: Role of Mental Health in Empowering Women" was held at Dhaka University's RC Majumdar Arts Auditorium on Sunday.
Shamsul Alam, State Minister for Planning was present as the chief guest while former minister of information Tarana Halim as special guest in the event organized by Actionist Foundation and Directorate of Narcotics Control, reports UNB.
Professor at Department of Psychology in University of Dhaka, Mehzabeen Haque was present as the keynote speaker.
Presided over by Actionist Foundation Founder and Executive Director A.N.M. Fakhrul Amin Farhad. Raisa Naser, Head of Communication, gave a welcome speech on the occasion. Imran Hossain Bhuiyan, lecturer, among others, spoke at the symposium moderated by Khadiz Akhtar Urmi and Sheherjan Haque, Head of Administration of the organization.
Dr. Mehzabeen Haque encouraged students to be aware of the importance of mental health and ways to prevent suicide. He said, "Many people will talk a lot in the society. There is no need to think about them. If we consider them coolly without reacting to any incident, then it is easier to solve the issues. We can bring these changes within ourselves if we want. "
Professor Dr. Mehzabeen addressed the teachers and parents, "Students feel that there is no one to listen to their thoughts. We have to listen to them. Drug addiction or suicide cannot be prevented by anyone alone. Family, friends or teachers should come forward and extend a hand of compassion." He then answered various questions about the mental health of the students.
Tarana Halim said, "More than half of the total population of Bangladesh is women. If the mental health of women is not good, then a skilled population or a successful population will never be created. Because if half of the population of a country is not kept healthy, that country can never move forward. It is An extreme truth."
Advising women, the former information minister said, "Those who feel vulnerable due to mental illness or distress should seek the help of a psychologist and the family should be by their side."
In the speech of the chief guest, Shamsul Alam highlighted various plans and initiatives of the current Awami League government for the welfare of the country, especially women.
Addressing the students, the state minister said, "You have to do your own development. You have to adapt to whatever the situation is. You have to be self-sufficient. You have to have the ability to make decisions. You have to sustain yourself in the competition."
He said, "As much as we have progressed in the economic field or in the social field, our behavioral or ideological awareness has not progressed as much. Our values or outlook have not improved as much. Even in a place like a university, we cannot produce people with good values."