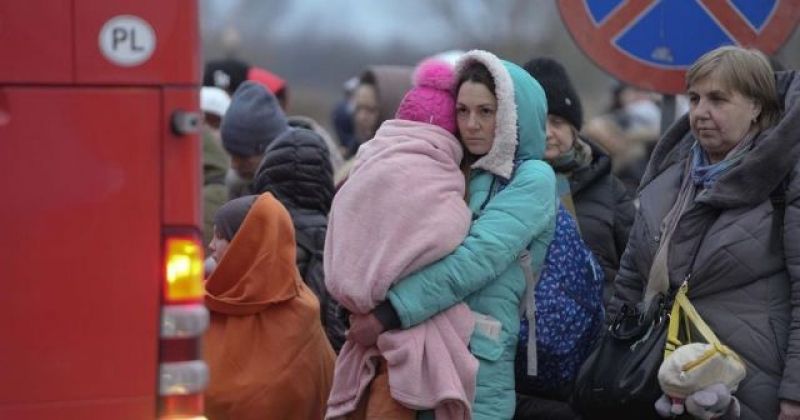 One and a half million Ukraine citizens have since left the country. AP photo

The US ambassador to the UN said the world should be ready for a "very long road ahead" in Ukraine. Meanwhile, Ukrainian President Volodymyr Zelenskyy refuses to leave Kyiv as fighting rages on. DW has the latest.

• Third round of talks between Ukraine, Russia fails to end conflict
• Zelenskyy accuses Russia of impeding evacuation efforts
• Putin claims "conscripts" not fighting in Ukraine
• Estee Lauder, IBM halt Russia operations
• Japan, Australia impose new sanctions
• Ukraine claims top Russian general was killed, Kremlin has not yet commented
Russia offers new cease-fire, proposes humanitarian corridors
Russia is offering a new Ukraine cease-fire for Tuesday, Moscow's ambassador to the United Nations Vassily Nebenzia said on Monday.
Nebenzia read a statement from Moscow which offered a cease-fire from 10 am Moscow time (0700 GMT), which would allow for the opening of humanitarian corridors to evacuate citizens from Kyiv, Chernihiv, Sumy, Kharkiv and Mariupol.
"This proposal doesn't have any demands about the citizens being sent necessarily to Russia, into Russian territory," Nebenzia said.
"There's also evacuation offered towards Ukrainian cities to the west of Kyiv, and ultimately it will be the choice of the people themselves where they want to be evacuated to," he added.
Russia had previously offered to open humanitarian corridors leading to Russian and Belarusian territory, an offer which Kyiv rejected. Ukraine preferred instead that evacuees be sent to western parts of the country, where shelling is not taken place.
Ukrainian President Volodymyr Zelenskyy has been skeptical of Russian offers for a cease-fire, as previous attempts to evacuate civilians safely have failed.
Cosmetics firm Estee Lauder suspends activities in Russia
Cosmetics firm Estee Lauder said on Monday it was suspending all commercial activities and closing all its stores in Russia.
It will also suspend brand sites and shipments to its retailers in Russia, the company said in a statement.
The statement said that the firm had committed $1 million (€920,000) to relief efforts in Ukraine.
Estee Lauder added that it would continue to provide compensation and support its employees in Russia at this time.
US Congress close to deal on Ukraine aid
The US Congress was on Monday getting close to a deal on a bill to provide Ukraine with billions of dollars in emergency aid.
Proposed US aid for Ukraine and its European allies has grown beyond $12 billion (€11 billion), Senate Majority Leader Chuck Schumer said.
Schumer, a Democrat from New York, said the assistance would pay for refugees, medical and food supplies, weapons transfers to Ukraine and aid for NATO allies.
The bill would also fund the government through to September 30 and provide funds for dealing with the COVID-19 pandemic. Republicans said negotiations are mostly stalling around the COVID-19 funds.
Japan freezes Russian assets as firms withdraw personnel
Japan's finance ministry announced on Tuesday that the country had frozen the assets of an additional 32 Russian and Belarusian officials and oligarchs.
The ministry said that Japan was also banning exports of oil refinery equipment to Russia, as well as of Belarus-bound general-purpose items that could be used by its military.
Japanese firms have also started withdrawing personnel from Russia, newspaper The Nikkei reported on Tuesday.
The withdrawal followed a warning issued by the Japanese government due to the war in Ukraine.
The Nikkei reported that Toyota had stopped production at its manufacturing plant in St. Petersburg, while Nissan, Subaru and Mitsubishi Motors were also preparing to recall staff from Russia.
Other Japanese firms in Russia, such as Japan Tobacco, Daio Paper and Nippon Express Holdings, have reduced their staff in the country.
Ukraine claims to have killed Russian general
Ukraine's military intelligence agency said that a Russian general, identified as Vitaly Gerasimov, was killed in fighting around the city of Kharkiv.
According to Ukraine, Gerasimov had fought in Syria and Chechnya and participated in the Russian seizure of Crimea in 2014.
Christo Grozev, the executive director of Netherlands-based investigative journalism organization Bellingcat, said Gerasimov's death was confirmed by a Russian source.
The Russian government has not yet commented on the matter.
Australia imposes new sanctions on Russian 'propagandists'
Australia's Foreign Ministry announced new sanctions on "Moscow's propagandists and purveyors of disinformation" on Tuesday.
Foreign Minister Marise Payne said that Australia was sanctioning "10 people of strategic interest to Russia for their role in encouraging hostility towards Ukraine."
"This includes driving and disseminating false narratives about the 'de-Nazification' of Ukraine, making erroneous allegations of genocide against ethnic Russians in eastern Ukraine, and promoting the recognition of the so-called Donetsk People's Republic and Luhansk People's Republic as independent," Payne said
According to the statement, financial sanctions will be imposed on the Russia's armed forces, and six senior Russian military commanders will be met with both financial sanctions and travel bans.
"Together with partners, we will drive Russia out of our economies, supply chains and airwaves," Payne said.
World Bank approves $723 million package for Ukraine
The World Bank announced on Monday that its executive board had approved a $723 million (€665 million) package of loans and grants for Ukraine.
The World Bank said the funds would help the Ukrainian government provide critical services, including wages for hospital workers, pensions and social programs.
Included in the package are guarantees from the Netherlands and Sweden, grants from the UK, Denmark, Latvia, Lithuania and Iceland, and parallel financing from Japan.
Summary of events in Ukraine-Russia crisis on Monday
Delegates from Russia and Ukraine met in Belarus on Monday for a third round of talks.
Ukrainian negotiator Mykhailo Podolyak said that the two sides had achieved "small positive [developments]" regarding the logistics of humanitarian corridors. Russian negotiator Vladimir Medinsky said Moscow's expectations were "not fulfilled."
Ukrainian President Volodymyr Zelenskyy accused the Russian army of impeding the evacuation of civilians. He refused to leave the Ukrainian capital of Kyiv, saying he was "not afraid" as the fighting rages on.
Russian President Vladimir Putin said that conscripts and reservists were not being sent to Ukraine, and that Russia was deploying "professionals" that were carrying out "fixed objectives."
The Pentagon said on Monday that Russia is recruiting Syrians to fight in Ukraine, but did not specify how many.
Meanwhile, the United Nations International Court of Justice (ICJ) in The Hague, Netherlands heard arguments from Ukraine asking the court to stop Russia's attack on the country. Russia refused to attend the proceedings.
The UN also called for safe passage of humanitarian aid supplies on Monday. US Ambassador to the UN Linda Thomas-Greenfeld said the world should be ready for a "very long and very difficult road ahead" in Ukraine.
EU top diplomat Josep Borrell said up to five million refugees could flee to the European Union.
German Chancellor Olaf Scholz said that Germany would keep energy deliveries exempt from sanctions on Russia, citing the need to ensure Europe's energy supply and maintain the activities of German businesses.
sdi/wd (Reuters, AP, AFP, dpa) – DW News